CAT 2022 (Common Admission Test) is one of the most well known and reputed examinations in India, that allows students from across the country an excellent opportunity to get into business schools, and take their first step towards a rewarding career in management. CAT 2022 has three sections, and candidates must attempt all these sections to get a good percentile in the CAT exam.
The IIMB had announced the CAT 2022 exam date, and aspirants should begin their preparation right away in order to maximise their chances of securing a higher percentile.
In this article,
Most, if not all, students are attempting this exam with the dream of a fast-tracked career in management, with the maximum chance to become the successful head of your own company someday. Many of you will be planning to attempt this paper on the CAT 2022 exam date. It is crucial to stay focused on understanding the fundamentals and start your preparation with sincere dedication and commitment, This will help you successfully crack this paper with the help of BYJU'S.
CAT 2022 Exam Highlights
You can check the main highlights regarding CAT 2022, including the CAT 2022 exam date, in the table below
Description
Features
Full Exam Name
Common Admission Test
Short Exam Name
CAT
Mode of Exam
Computer-based Test (CBT)
Mode of Application
Online
CAT Website
https://iimcat.ac.in/
Managed by
Indian Institute of Management
Level of Exam
National
Languages
English
Application Fee
General Category – 2200

Reserved categories (Sc/St/PwD) – 1600

Exam Duration
2 Hours
Mode of Question Papers

MCQ (Multiple-Choice Questions)
Non-MCQ (TITA)

CAT 2022 Exam Date
27th November 2022
CAT 2022 Organising Institute
To be announced
The CAT 2022 exam is the most talked-about competitive paper in the management industry. It is undoubtedly the most popular exam among students and teachers alike because of its unique structure, and the fact that graduates or undergraduates belonging to any background can attempt this paper. Like the previous years, the students are eagerly awaiting the CAT 2022 exam date announcement.
Watch this video to know more about the eligibility norms for CAT 2022,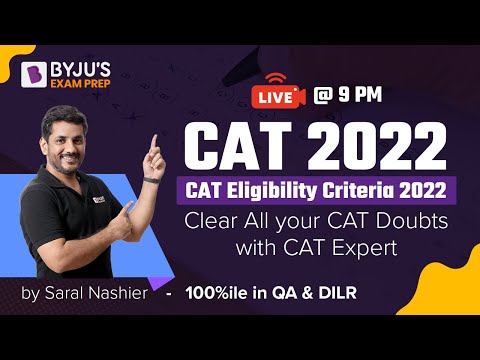 CAT 2022 & Previous Years' Organising Institutes
The Indian Institutes of Management (IIM) is the organising body that has been handling the setup for CAT since its inception, and will continue to do so for CAT 2022 as well. IIM Ahmedabad convened CAT 2021. The conducting body for CAT 2022 is IIM Bangalore. The credit for successfully conducting one of the most difficult and competitive exams in the country should undoubtedly go to these institutes. The institutes that have administered the CAT exams over the years are given below
Exam Dates for CAT 2022
| | |
| --- | --- |
| Release of Notification | Last week of July, 2022 |
| Commencement of Registration Process | First week of August, 2022 |
| Last date for submission of Application Form | 4th week of September, 2022 |
| Release of Admit card | 4th week of October, 2022 |
| Mock Test | First week of November, 2022 |
| CAT 2022 Exam | 27th November, 2022 |
| Announcement of Result | First week of January, 2023 |
CAT 2022 Exam Resources
Here we are providing the latest resources for the CAT 2022 Exam. Students can click the links below and get the format.
Watch these exclusive videos from our CAT Experts which will give you a glimpse of CAT 2022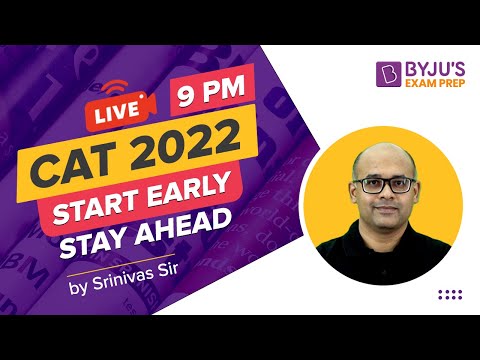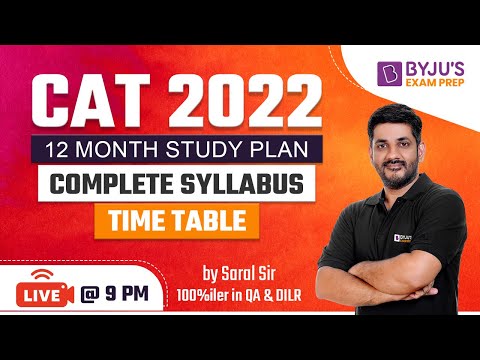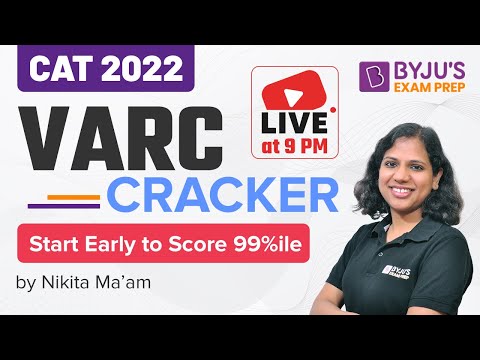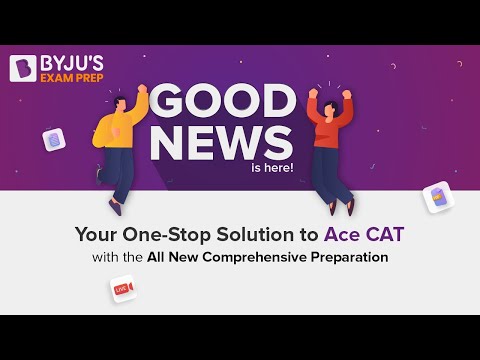 CAT 2022 Group Discussion and Personal Interview
After you attempt your CAT 2022 exam and get a good percentile score, the next stage is Group Discussions (GD) and Personal Interviews (PI). If you have applied to a college/university and your scores are above the cut-off for that institute, they will call you for further rounds and test your skills in terms of GD and PI. It is an important part of the overall CAT experience, and students must take it seriously. At BYJU'S, we offer students the Mock GD/PI facility to help prepare for this stage. They will get specialised sessions where teachers will guide them with strategies and tactics to keep in mind during the GD and PI stages.
BYJU'S is be the best buddy in your journey to ace CAT 2022
The mantra for BYJU'S has been to provide quality educational material to students, which will help them in cracking competitive exams like CAT. We are known for designing comprehensive study programs with qualified trainers, premium content and the latest technology to help students learn more about how to excel in CAT 2022 with flying colours.
BYJU'S CAT online preparation programs provide several concepts and tricks that help students prepare for the different sections. The teachers also discuss strategies that will help them to maximise their effort and minimise the time consumed, while attempting the CAT 2022 paper.
Students also benefit from practising mock papers and using tricks/strategies based on logic to help them with their time management skills and clear the exam. Mock papers are a part of the All India Test Series, where the students take these exams regularly. They get awarded an All India Rank (from among all students at BYJU'S who took this test) and an expected percentile score. It is not that the questions in CAT are unsolvable. But since there are only 120 minutes to attempt so many questions, you need some shortcuts and tricks to attempt them correctly. You will also need to prioritise which questions to leave and which ones to try, to save time and maximise your score. At BYJU'S, you will learn these strategies and more to crack the exam easily.
The best part about BYJU'S online CAT course is that students have the flexibility to use it according to their convenience. They don't have to log in or attend classes at a particular time of the day. Both students attending college and working professionals will find this convenient because they have other responsibilities to fulfil. Our comprehensive CAT 2022 study program will ensure that your preparation is on track.
How to start your preparation for CAT 2022?
With less than ten months left for the CAT 2022, it is the perfect time to start your preparation. Here are a few preparation pointers that will help you pass the CAT 2022.
In light of the abundance of options available for preparation, it might be overwhelming for you to choose the right resource and where to begin with. Analyse which mode of preparation would be convenient for you, Do your research right here and choose wisely.
Go through the CAT 2022 syllabus thoroughly. The syllabus covers various topics and differs from anything you have encountered before. You must gain a solid understanding of the syllabus and exam pattern in order to succeed in the exam
Practise past year papers
Practising previous year papers will help you familiarise yourself with the exam pattern and experience the real-time environment of the exam. It will also teach you the importance of time management and maintaining speed and accuracy throughout the exam.
As a rule, if you're stuck at any point, skip that question and go on to answer as many questions as possible, before your timer ticks out.
You have a time limit of 40 minutes to answer the questions from each section. Verbal and Reading Comprehension (VARC) had 24 questions, Data Interpretation & Logical Reasoning (DILR) had 20 questions, and Quantitative Aptitude (QA) consisted of 22 questions. The choice of questions acts as a game-changer. Choose the questions that you're confident enough to answer. Right from the start of your preparation take up a strategy to manage your time effectively.
Practise mocks frequently
When studying for the CAT 2022, it's important to take your time. As you progress, you should also practise as many mock tests. Once you've mastered the concepts, take at least one general mock every week. As you progress, increase the number of mocks.
Analyse the results of the mock exams and work on the weak points.
Develop the habit of reading and you will be able to improve your reading comprehension over time. Start to read newspapers, editorials and magazines. This will also help keep yourself updated with the current affairs which will be beneficial for your interview preparation. Keep yourselves engaged by solving puzzles, riddles and sudoku.
Frequently Asked Questions on CAT 2022
Q1
When should I apply for CAT 2022?
Although the official dates to register for the CAT 2022 exam have not been announced yet, the registration window generally opens in the month of August and closes in the latter half of September. Last year the registration for CAT was open from the 4th of August to 22nd September 2021.
Q2
Is the CAT score valid for 2 years?
The CAT score is valid for a period of one year from the date of the examination. You will have to appear for the CAT 2022 the following year to be considered for admissions after a period of one year.
Q3
What is the maximum number of times the CAT Exam can be given?
There are no constraints on how many times you can take the CAT exam. You can appear for the exam as many times as you want, if you meet the eligibility requirements.
Q4
What are the best books for CAT preparation?
Some of the books that will help you prepare better for the exam are – How To Prepare For The Data Interpretation And Logical Reasoning For The CAT – by Arun Sharma, Quantitative Aptitude by R.S. Agarwal, How to Prepare for Verbal Ability and Reading Comprehension for CAT – by Arun Sharma and Meenakshi Upadhyay, and A Modern Approach to Verbal & Non-Verbal Reasoning – by R.S. Aggarwal.