The Common Admission Test, or CAT, is India's most popular MBA entrance exam, with over 2.30 lakh candidates taking it every year. It's the gateway to India's top business schools, the IIMs. As a first step, applicants should choose their method of preparation and create a preparation strategy that incorporates all of the factors that contribute to achieving a high percentile. How to prepare for the CAT exam is one of the most frequent questions asked by CAT aspirants. To prepare for the CAT exam, candidates can either choose a coaching institute or choose to prepare by themselves from home. Both the preparation modes have their respective benefits, and choosing one of the modes solely depends upon one's own preference. The method of preparation you choose will have a significant impact on the CAT percentile. Please refer BYJU'S CAT College Predictor tool.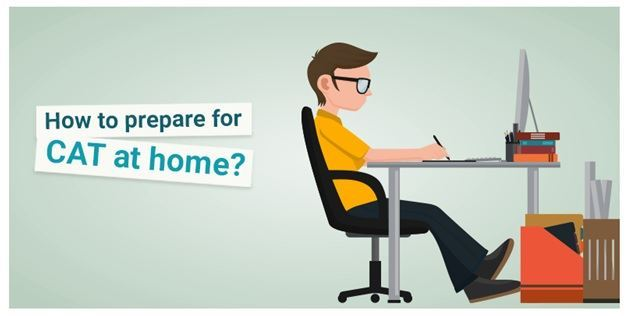 There are several ways to prepare for the CAT Exam, including enrolling in the top coaching centres, self-study, peer group preparation, and so on. Candidates who intend to study for the CAT on their own should begin considerably sooner. Each mode of study has its own preparation phase. Experts say that candidates who want to study at home must start their preparation far ahead of time since they must focus on a large number of topics and complete them, as well as set aside adequate time to practise question papers and mock exams and review them. Getting a good CAT score is advantageous since it boosts your chances of getting into one of the finest management schools, but how you do it is equally crucial. Read through the article to get a comprehensive idea of CAT preparation at home.
Tips to Prepare for CAT 2023 at Home
A majority of the candidates follow coaching institutes for CAT preparation. On the other hand, some candidates who think that they can do well through their own methods opt for self-study preparation. The reason for this could be that coaching centres charge a hefty sum of money, or a determination to do well with self-study. The following are some preparation tips which will help candidates in their CAT Exam 2023 preparation.
Understand the Exam Well
Before getting into the preparation tips for the CAT Exam, the first thing one should get familiar with is the syllabus of CAT and the exam pattern in detail. Having a comprehensive understanding of the exam syllabus gives you an overview of the topics which require more and considerable weightage. It also helps you to plan your preparation accordingly.
Time Management
Make a detailed timetable and allot appropriate time to each subject, as well as time for revision, practice sessions, newspaper reading and taking mock examinations. Stick to the time management strategy consistently. Without time management, it would be difficult for candidates to prepare in an orderly manner. Following different timetables every other day and choosing subjects at random would result in an imbalanced approach towards each subject.
Study Material
There are a lot of study materials available in local stores as well as in online markets. Choosing the right study material is a challenge. We, at BYJU'S, provide study materials in the form of video lectures, which are prepared by the best CAT trainers in the country. Using BYJU'S video lectures, you can study at your own pace on your own time, and you can also track your progress by taking frequent tests.
Previous Years' Papers
This is the most important part of preparation. It is a mandatory requirement for every aspirant to solve as many CAT past years' questions as possible. Candidates should solve previous years' question papers, as this will give them a clear idea about the type of questions asked in the exam and help them get acquainted with the exam setting, question paper pattern, repeated questions, etc.
Online Mock Test
If you are done with your preparation, it is necessary to test your knowledge by taking online tests available on different websites. These test scores will show you how much you need to study and which topic to study more. Take at least two online mock tests in a week. Note down your mistakes and try to avoid them in the next mock test. As the exam approaches and once the admit card is released, candidates are advised to attempt more mock tests to prepare well for their exams.
Study Group
You should make a small group where everyone can throw their ideas on solving different questions in different ways. Teach your friends about the topics that you are thorough with and ask them for the same, this will help everyone in the group to study efficiently. Clear each other's doubts. Try to solve the same question papers together and check who completes the paper first. This will help you to improve your efficiency in solving questions.
Study Online
Browse the internet, visit educational websites, read their study materials, and read the news, as this will help you to improve your general awareness. Further, download the free mock papers available on the internet.
BYJU'S team of CAT Experts and CAT toppers will guide you to pass the CAT exam effortlessly. CAT preparation is qualitative rather than quantitative. They begin with the foundations and proceed to tips and shortcuts so that you can answer the questions in a matter of a few seconds. Choose BYJU'S if you want to take your CAT preparation at home to the next level with the most reputable educational platform in India. Start your CAT 2023 preparation from scratch with BYJU'S free CAT study tools, which include interactive video lessons, shortcut tips, and tactics.