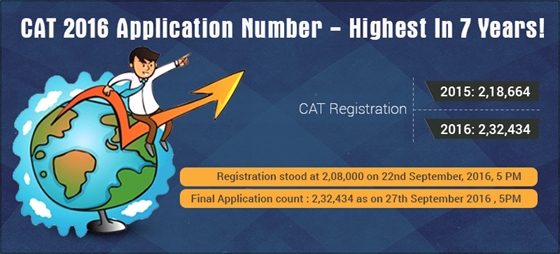 This year CAT registration have shooted up to 2,32,434. The closing registration number as recorded in the evening at 5 PM on 27th September 2016. This whooping number can be attributed to the number of aspirants who are keen to be a successful global manager.
This is a big jump if compared to the previous year registration number. The extension of deadline also triggered a spark to register in those dormant 24,434 aspirants for which five days extra played a vital role.
Seven year high!
This number has been recorded as a seven year high. Interestingly the assent in the number of CAT applicants are recorded when the global MBA population is taking a dip due to recession.
Management – Most preferred professional degree by students in India
As per a data by Graduate Management Admission Council, this is the second year where a straight share of programmes application is down from a high of 61 percent in 2014. India has been an exception when the growth in popularity of management programme has been recorded. The push in liberalisation in FDI in the key industries and sectors led to revival of interest in pursuing a management career. India has always been protected by the robust financial and economic policies which shield it from any global recessionary effects. The students, now, want to furnish themselves and groom from the best management degrees offered by THE IIMs.
Tough Competition This Year
CAT being the most sought-after management entrance examination, is not very easy to crack even if the questions are based on high school maths and English. The trick and shortcuts are going to be the only weapon of respite to be able to succeed in the examination. The trick and tips that we share our students help them achieve the goal to be in that desired percentile brackets which IIMs accept.
Are you aspiring to be the best manager you know? Then call our career counsellor and get the best of our copyrighted tricks and tips that are falling-in-love worthy. Contact us at 9880031619.