The Common Admission Test, CAT 2021, is a computer-based test that is required for admission to graduate management programs. The CAT Exams 2021 will have three main sections: VARC (Verbal Ability and Reading Comprehension), DILR (Data Interpretation and Logical Reasoning) and QA (Quantitative Ability). Indian Institutes of Management (IIMs) pioneered this exam and is conducted to select students for MBA and PGDM business administration programs.
The CAT 2021 exams are ideal for students seeking careers in management and business administration. Our article below highlights some key points for those students who aspire to ace the CAT Exam 2021.
Table of Contents:
Know About CAT 2021
CAT 2021 was first introduced by Indian Institutes of Management (IIMs) as a three-hour test. However, the timing was changed in 2020 due to the Covid-19 protocol.
There will likely be three shifts of two-hour CAT Exam 2021 comprising three sections:
i) Verbal Ability and Reading Comprehension
ii) Quantitative Ability
iii) Data Interpretation and Logical Reasoning
Candidates will be given a total of 40 minutes to complete each section of the test. The PwD candidates, meanwhile, will get 13 minutes and 20 seconds extra to complete each section.
Approximately 2.31 lakh candidates have registered for CAT 2021 this year. Each IIM administers this examination yearly through rotation. CAT 2021 Exams are scheduled for 28 November 2021, from 400 centres across 158 cities.
CAT 2021 Highlights are given in the table below:
CAT Exam 2021 Key Points
| | |
| --- | --- |
| Full Exam Name | Common Admission Test |
| Short Exam Name | CAT |
| Managed by | Indian Institutes of Management (IIMs) |
| Exam Level | National |
| Languages | English |
| Mode of Application | Online |
| General Application Fees | Rs, 2,200 |
| Mode of Exam | Computer Based |
| Exam Duration | 2 hours |
Visit to explore 60 Days Strategy By IIM C Alumnus to Crack CAT 2021: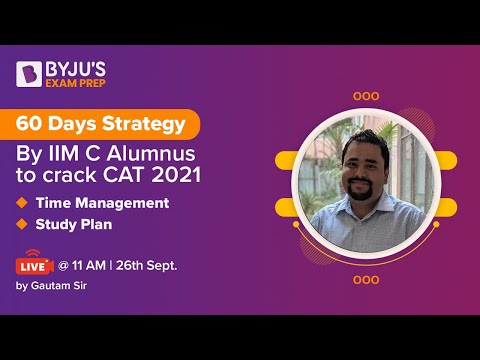 Organizing Institutes for CAT Exams
All candidates for IIM MBA and PGDM business administration programs are familiar with CAT Exams 2021. The exam for MBA admissions is a national level, prestigious exam for all successful applicants. Anyone interested in knowing about CAT 2021 exam can find the details in this article. Check out below the names of the institutes that conducted the CAT exams over the years.
| | |
| --- | --- |
| CAT 2021 | Indian Institute of Management (IIM), Ahmedabad |
| CAT 2020 | Indian Institute of Management (IIM), Indore |
| CAT 2019 | Indian Institute of Management (IIM), Kozhikode |
| CAT 2018 | Indian Institute of Management (IIM), Calcutta |
| CAT 2017 | Indian Institute of Management (IIM), Lucknow |
| CAT 2016 | Indian Institute of Management (IIM), Bangalore |
| CAT 2015 | Indian Institute of Management (IIM), Ahmedabad |
| CAT 2014 | Indian Institute of Management (IIM), Indore |
| CAT 2013 | Indian Institute of Management (IIM), Indore |
| CAT 2012 | Indian Institute of Management (IIM), Kozhikode |
| CAT 2011 | Indian Institute of Management (IIM), Calcutta |
| CAT 2010 | Indian Institute of Management (IIM), Lucknow |
| CAT 2009 | Indian Institute of Management (IIM), Ahmedabad |
Want to Crack CAT 2021 Exams?
BYJU'S believes that the quality of education is extremely vital for students today. Qualitative education, then, is the perfect combination of well-designed programs, competent trainers, engaging and meaningful content, as well as superior technology.
Students who prepare online for the CAT through BYJU'S stand a very good chance of succeeding in the test. As a result of our training program, candidates gain a deeper understanding of the relevant subjects, develop their basic skills, and resolve issues associated with their job.
One of the best things about our online CAT course is that it allows the students to learn at their own pace. BYJU'S creates an individualized CAT preparation experience for its students and professionals.
Hands-on online study material and mock tests are specifically designed to improve time management and subject skills. At BYJU'S, students will experience different learning techniques, and we ensure it will be reflected in their performance.
CAT 2021 Exam Resources
Preparing for the CAT Exams 2021 can be pretty exhausting and time-consuming. So, to simplify the process we have provided the links to access the CAT Exam Resources:
CAT Previous Year Question Papers
Why CAT Exams 2021?
CAT Exam 2021 is the key to getting into the most prestigious management institutes in India. The top 99th percentile of applicants is likely to be shortlisted for IIM Ahmedabad, IIM Bangalore, IIM Calcutta, IIM Lucknow, IIM Indore, IIM Kozhikode and 14 other top IIMs.
Shortlisted candidates are also eligible to attend top non-IIM institutions.
The best companies including Hindustan Unilever, Nestle, ITC Limited, Goldman Sachs, J. P. Morgan, McKinsey & Company, The Boston Consulting Group, and TATA Administrative Services are likely to hire those who pass out of these institutes.
The salary is likely to increase significantly, along with the opportunity to work with some of the best companies in the world.
Be mindful, however, that CAT or even admission into an IIM is no guarantee of success. A membership in a prestigious institute can, however, be an advantage.
Learn About CAT Exam Registration
The CAT 2021 registration window will opened at 10:00 a.m. on August 4, 2021 and closed at 5:00 p.m. on September 22, 2021. At the time of registration, the candidates can choose, according to their preference, from any of the six test cities given in the drop-down menu. In case the last date of registration is over, the candidates will be allotted one among the six preferred cities, as per the availability. If a candidate is not allotted to any of the preferred cities, then he or she will be allotted a nearby city. The candidates are allowed to download the admit cards from 27 October 2021 until 28 November 2021.
Before applying, applicants belonging to the reserved categories should carefully review eligibility requirements. The candidate should carefully review each IIM's website for updates regarding its selection process. No changes to CAT category can be made once the CAT registration has been completed. Students should pay close attention to the registration instructions.
Candidates will be able to edit the following fields in the application form (if necessary) during a 3-day period from 10.00 am on 25 September 2021 to 5.00 pm on 27 September 2021.
Photograph
Test City Preferences
Signature
For the most up-to-date information when it comes to the Edit window and other matters, candidates are advised to visit the CAT website regularly.
CAT Exam Important Dates
| | |
| --- | --- |
| CAT 2021 Registration Starts | 4 August 2021, 10:00 am (Wednesday) |
| CAT 2021 Registration Ends | 22 September 2021, 5:00 pm (Wednesday) |
| CAT 2021 Admit Card Download | 27 October 2021, Begins 5:00 pm (Wednesday) |
| CAT 2021 Test Day | 28 November 2021, (Sunday) |
| Edit Window Live Dates | 25 September 2021, 10:00 am to 27 September 2021, 5:00 pm |
| CAT Results(Tentative) | 2nd Week, January 2022 |
Know About CAT Exam Application Fees
The table given below in this article, shows the CAT 2021 application fee for both General and Reserved categories:
| | |
| --- | --- |
| Category | CAT Application Fees (INR) |
| General and NC-OBC | 2,200 |
| SC, ST and PwD | 1,500 |
General CAT 2021 Eligibility Criteria
Applicants for CAT 2021 should meet any of the following prerequisites:
Bachelor's degree in any field with a minimum percentage of marks.
Completed professional degree (CA/CS/ICWA/FIAI Fellow) with required percentage.
The applicant must be in the final year of a Bachelor's degree with the required percentage.
A minimum of 45% is required for SC/ST/PWD candidates.
Applicants who are general, EWS and non-Creed minorities are required to score at least 50%.
Help the students prepare ahead for the CAT and score well in the exams. All the best to CAT candidates.
Frequently Asked Questions on CAT 2021 Exam
Q1
For how long are the CAT scores valid?
CAT scores are valid for a period of one year, unlike other MBA competitive exams such as the GMAT and GRE. You can, however, take advantage of deferred admission, if you plan to work/continue working for a year before joining your institute.
Q2
How do I get into IIM Ahmedabad?
In the General Category, a score of above 99 percentile will ensure a shortlist call from IIM Ahmedabad. In addition, a good academic score in Class 10, 12, and Graduation will play a major role. Candidates should have (90/90/80) in their 10th, 12th and Graduation. Nevertheless, it is not uncommon for shortlisted candidates to have graduation scores below 60% (although this can be compensated for by a high CAT score). IIM Ahmedabad also provides diversity points to non-engineers, whom it categorizes under 7 academic streams – A1 to A7.
Q3
My background is not in engineering. Can I still pass the CAT exam in 2021?
Your chances of cracking the CAT exam are no less than anyone else's. CAT is increasingly being tailored to cater to non-engineers as well. Despite the fact that engineers generally have an advantage in dealing with numbers, it is not the case for everyone. Additionally, top management institutes like IIMs offer points for diversity, which can be considered an added advantage for non-engineers.
Q4
Is it possible to change the CAT exam centre?
CAT candidates can modify their CAT exam centre during the correction period of CAT 2021 application forms.