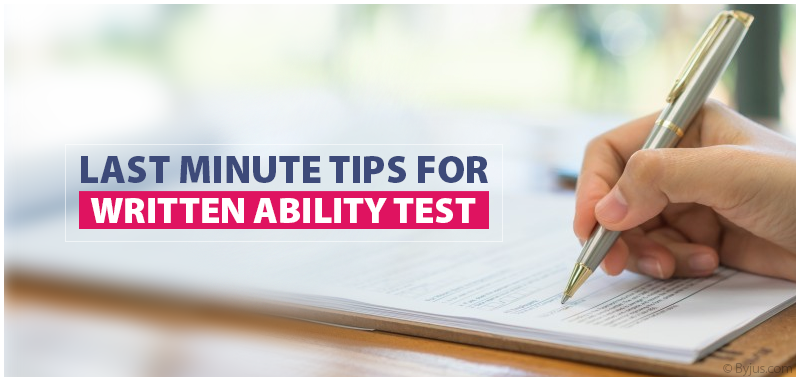 The WAT (Written Ability Test) is the recent replacement for Group Discussion. Most of the IIMs and other prestigious B-Schools have removed the Group Discussion and added the Written ability test as their selection procedure.
In Written Ability Test, the candidates are asked to write an essay on current affairs topics or on some critical and diverse issues. The test checks how the candidates present their thoughts and opinions in a structured manner while including personal ideas.
Why was GD replaced?
Generally, during a Group Discussion, majority of the people were not able to put their opinion in the group, while some of them who were great speakers were able to clearly articulate during the process.
It got more difficult for the moderator as well as the participants. To get a sense of fair play for all the participants, the Written Ability Test is started as an IIM selection criteria. Through the Written Ability Test, a candidate can express his thoughts clearly and with an organized thought flow. The IIMs vet that this will allow a candidate to show his clarity of opinions, and structured thinking ability.
If a student has already taken the WAT(Written Ability Test) exam at an older IIM, then he is not required to take it again at another IIM. However, a Personal Interview will still be a part of the selection procedure.
Time Limit for WAT:
One of the main hurdles that the students are going to face is the time limit given to write the essay.
The time limit for the Written ability tests at IIMs differs from branch to branch. While IIM-B provides 30 mins for the test, IIM L stands at 15 mins and IIM-A rings the bell at the 10th min.
One way to practice is picking up one of the current affairs topics and writing as many important points as possible. Points are given on as many new ideas you could give, with respect to the topic along with what new perspectives you could bring. It is vital to have a clear logic behind each point. There is no requirement of presenting the essay in a flowery language. Always be careful about grammar and spelling.
Important Tips For Written Ability Test
It is suggested to make your language accessible to the readers. Make the essay assertive but write in simple language. Write like a company that is drafting a quote for the customer.
Be interesting while writing:
It is advised not to bore the reader with your personal example, readers need facts from credible sources. Use your personal example only if that topic demands you to.
Be concise while you are writing. Use substitute words for long sentences. Being verbose not only takes up space and time but also confuses the reader of what you want to convey.
Take an example here:
Verbose: With my ability to take things up and being the leader of my basketball team in college, in fact, enough to say that I have tremendous leadership skills, which also have led me to see the constraints faced by true leaders.

Concise: Being the captain for basketball in my college made me deal effectively with challenges faced by a team leader.
Keep up with the current affairs and practice a lot:
The WAT is going to be on a recent topic. So one needs to keep oneself abreast of current happening around the world. Be argumentative while reading the editorial page of a good newspaper (The Hindu, or ET etc) Write those arguments and practice a lot like this.
Keep your focus on writing:
While writing it is seen that most people wander their thoughts to something else altogether that leads to not writing about the topic at hand. Keep your focus on the point you want to convey.
Discuss the current topics with your friend and think about other's perspectives as well:
This will not only help you gain a different perspective but also will help you to be more assertive.
Remember, the essay you are going to write in Written Ability Test might generate some questions in the subsequent PI round. You need to remember the points written in WAT to defend them in front of the interviewer.
Stay tuned with BYJU'S to get different preparation tips for the CAT exam topics along with engaging video lessons to learn more effectively. Also, get the latest CAT exam notification, syllabus and previous year CAT question Papers to strategize a proper preparation plan.