The complete list of IIMs in India is mentioned here along with their respective details. This IIM list covers all the Indian Institutes of Management that are located in various locations all across the nation. The Indian Institutes of Management (IIMs) are revered as the Ivy League Institutes of India for management studies. IIMs offers doctoral, postgraduate and executive management programs for shaping career management. Up until now, India has close to 3500+ management colleges and out of these, only a few are the best ones that churn out the best managers.
IIMs are considered the best colleges for imparting managerial education and training their students to take up the challenging roles that today's global companies demand. Due to this, the IIM Selection Criteria is one of the toughest in the world with an extremely low acceptance rate. These Indian Institutes of Management (IIMs) are the colleges registered under the Indian Societies Registration Act and are autonomous in their operations. IIMs are headed by India's HRD ministry which consists of the directors and chairpersons from the Government of India.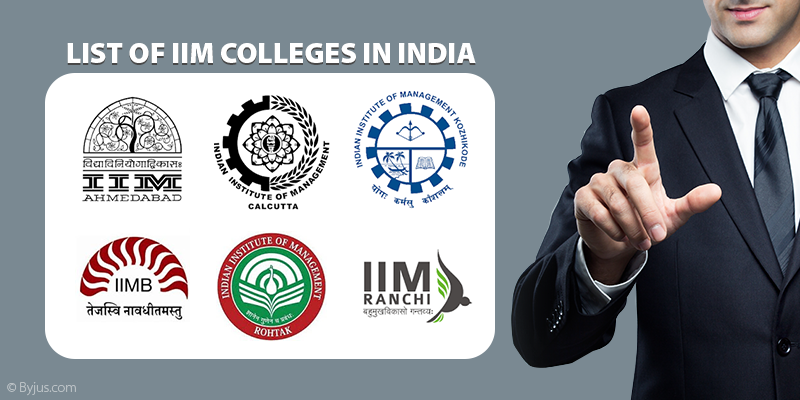 IIMs conduct the Common Admission Test as a gateway to enter their programs. The CAT is considered one of the toughest exams to crack in the country. After the CAT scores validation, IIMs conduct Group Discussion or Written Ability Test and Personal Interviews to finally short-list the candidates for the respective institutes. Some IIMs also accept the GMAT score of the candidate.
Here, is a list of all the IIM colleges, location and their official websites:
IIM List: Complete List of IIM Colleges in India
| | | |
| --- | --- | --- |
| Name of the Institute | Location | Official Website |
| IIM A | Ahmedabad, Gujarat | www.iima.ac.in |
| IIM C | Kolkata, West Bengal | iimcal.ac.in |
| IIM B | Bangalore, Karnataka | iimb.ac.in |
| IIM L | Lucknow, Uttar Pradesh | iiml.ac.in |
| IIM K | Kozhikode, Kerala | iimk.ac.in |
| IIM I | Indore, Madhya Pradesh | iimidr.ac.in |
| IIM Shillong | Shillong, Meghalaya | iimshillong.in |
| IIM Rohtak | Rohtak, Haryana | iimrohtak.ac.in |
| IIM Ranchi | Ranchi, Jharkhand | iimranchi.ac.in |
| IIM Raipur | Raipur, Chhattisgarh | iimraipur.ac.in |
| IIM Trichy | Tiruchirappalli, Tamil Nadu | iimtrichy.ac.in |
| IIM Kashipur | Kashipur, Uttarakhand | iimkashipur.ac.in |
| IIM Udaipur | Udaipur, Rajasthan |  iimu.ac.in |
| IIM Nagpur | Nagpur, Maharashtra | iimnagpur.ac.in |
| IIM Visakhapatnam | Vishakhapatnam, Andhra Pradesh | iimv.ac.in |
| IIM BodhGaya | Bodh Gaya, Bihar | iimbg.ac.in |
| IIM Amritsar | Amritsar, Punjab | iimamritsar.ac.in |
| IIM Sambalpur | Sambalpur, Odisha | iimsambalpur.ac.in |
| IIM Sirmaur | Sirmaur, Himachal Pradesh | iimsirmaur.ac.in |
| IIM Jammu | Jammu, Jammu & Kashmir | www.iimj.ac.in |
This IIM list has been made in order of establishment of the respective IIMs. To know more about any particular IIM visit BYJU'S IIM page on the leftmost column. Check out this page for the latest updates and news on CAT exams and other IIM notifications.
Stay tuned with BYJU'S to get the best CAT preparation materials and engaging video lessons to learn more effectively for the CAT exams. At BYJU'S, candidates are always updated with the latest CAT 2022 notification, syllabus and pattern to help strategize a proper preparation plan.