Delhi, the capital of India and an ocean of educational opportunities, has been nurturing thousands of young minds, who aspire to be management graduates from IIMs. For all those IIM enthusiasts, BYJU'S provides the best CAT preparation course in Delhi, as your choice of the trainer will play a vital role in your success.
BYJU'S has reformed the face of CAT coaching in Delhi, providing an exclusive CAT exam preparation module to the students covering all important sections and topics. BYJU'S course is updated according to the latest CAT pattern based on previous years question papers. The question papers are also provided in the BYJU'S app which will help you to master your skills of predicting questions. Individuals opting for BYJU'S course can learn at their own convenience and pace.
Still wondering why our CAT Coaching in Delhi is an ideal CAT program for you:
LIVE & Interactive Sessions: 135+ high definition and content rich sessions to help you crack CAT. Lectures will cover the complete CAT syllabus and tricks to reach answers effectively. 300+ engaging sessions to help clear your CAT concepts
Study from the comfort of your home: With BYJU'S CAT Tablet program you can watch recorded videos on-the-go without worrying about the internet connectivity.
Top Faculties: Faculties with upto 20+ years of teaching experience will be on your fingertips as they takes your through interactive CAT lectures
CAT Test Series based on latest test pattern: Experts curated CAT Mocks that can be a game changer for CAT aspirants. BYJU'S CAT mocks are the ideal tool for revision and knowing where they stand against their peers. Get sectional and topic wise test to crack CAT
Study Material & Doubt Solving: Sufficient study material to help you ace CAT & revise concepts along with a dedicated Telegram group to enable peer-to-peer learning.
GD-PI Sessions: Our CAT program helps you in clearing the GD & PI rounds of MBA admission by providing you 15 power-packed sessions by the experts.
CAT aspirants can also download the free version of BYJU'S – The learning App from the play store or app store. The App is free & contains lectures & test papers. It also provides detailed performance analysis for all the tests highlighting the strong & weak areas. We encourage all CAT aspirants from Delhi to try out BYJU'S course to experience these facets for themselves.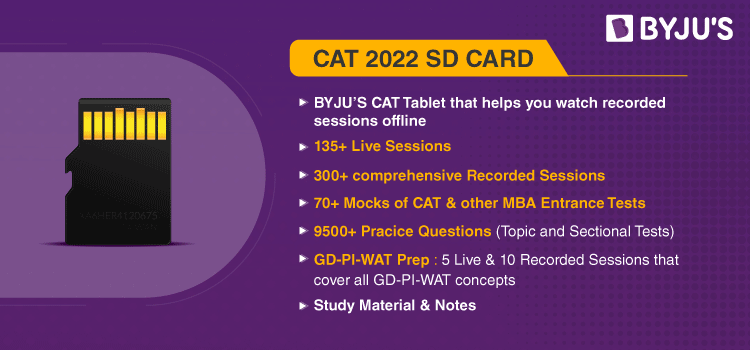 To get more information on CAT Preparation, please visit your BYJU'S information center or call at 09243500460