Indian Institute of Management, Shillong (IIM Shillong), is a fully autonomous management institute in the city of Shillong, Meghalaya. It is the seventh Indian Institute of Management to be established and is ranked among the top MBA colleges in India. The institute considers the CAT scores to shortlist candidates for their further rounds i.e. WAT and PI.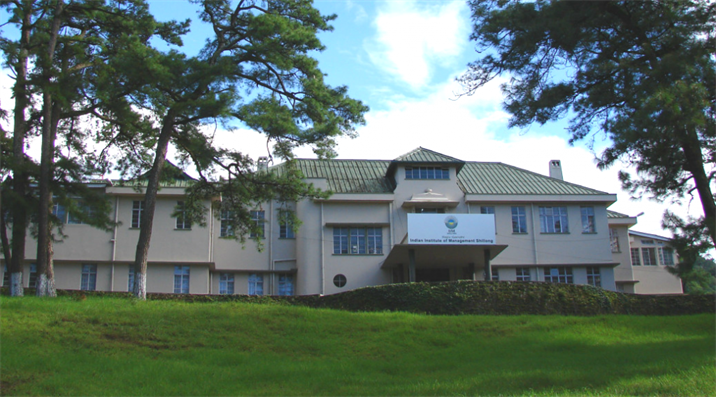 IIM Shillong is established in 2007, with a vision of expansion and mobilization of facilities for offering good quality management education and research in the North-Eastern region of India.
The serene ambiance of IIM Shillong is surrounded by pine trees, lush green lawn and the kaleidoscopic mountains in the backdrop creates an aura of stunned silence amidst nature. Within the heart of Shillong city, the IIM's campus showcases a tranquil environment where the students can concentrate on their regular activities.
Academic Programmes
Post-Graduate Programme in Management
This is a 2 year, fully residential program with a curriculum comprising a mix of compulsory courses and electives, supplemented by specialized courses on industry sectors.
Post Graduate Program for Executives – Managing Business in India and China (PGPEx – MBIC)
This is a 14-month fully residential program for executives that aims to provide the opportunity to learn and conduct transnational business.
Fellow Programme in Management (FPM)
This is the doctoral level programme offered by IIM Shillong. The FPM is a 4-year fully residential programme with fellowships awarded in the following areas like Economics, Finance, HR, Information Systems, Marketing, and Operations Management.
Management Development Programme (MDP)
These are short duration programmes varying from two days to six months, for working executives from the industry, education, and government sectors, held both on- and off-campus.
Faculty Development Programme (FDP)
The institute also offers programmes for faculty development at regular intervals to help familiarize with current and relevant industry trends and practices.
Centre for Development of North Eastern Region (CEDNER)
The CEDNER has been constituted to organize both short-term and long-term programmes relevant to the local community and society of the state and the region.
IIM Shillong
Rajiv Gandhi Indian Institute of Management
Mayurbhanj Complex,
Nongthymmai, Shillong – 793 014
East Khasi Hills District, Meghalaya, India
Are you planning to take CAT this year? If yes, then you can have the best CAT preparation materials and videos at your fingertips. BYJU'S offers the best comprehensive course for your CAT preparation. Be it Quantitative, or Logical Reasoning, or Verbal, BYJU'S will equip you to answer any question under 60 seconds.