The Decision Making section is a distinctive session in XAT. Since it's a unique section, not many material or study notes are readily available which makes this section difficult to solve. A total of 21 questions are asked in the Decision Making section. After the change in XAT exam pattern in 2013, the Decision Making section became a separate part.
Watch BYJU'S expert as he solves the questions mentioned above with ease. Through the video you'll be able to grasp the effective method to reach the solutions: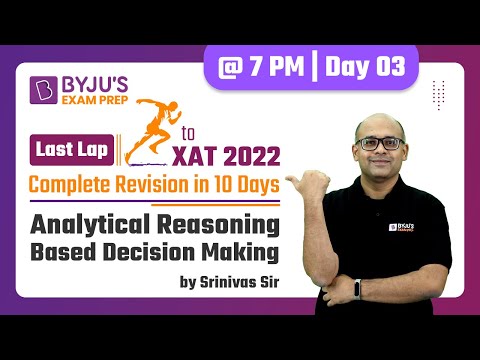 It is crucial for candidates to ace the DM section in XAT as it is the only stand alone section in XAT, other sections are a combination of 2 topics i.e. Verbal & Logical Ability & Quantitative Ability & Data Interpretation.
Decision Making questions are asked with reference to passages about business and behavioural based decision making. Candidates are required to analysis the passages given and answer the questions basis the information or data given
Let's look at some of the Decision Making Questions:
Take 5-6 minutes on each set and then, check the solutions given in the video mentioned below
For Questions 1-4
Shekhar, an MBA from Singapore returned to his hometown-Jamshedpur. Jamshedpur had a population of 10 lacs with one of the highest per capita income among Indian cities. Shekhar loved music. While listening to his favourite song on "satellite radio", he wondered if he could mix his passion with business. Incidentally, a few weeks later, while browsing the Internet, he came across an advertisement from Music World, which called for expression of interest from potential franchisees. Jamshedpur did not have a single good music outlet, where its residents could buy quality, variety and the latest from the world of music.​
Music World wanted the potential franchisees to own minimum 1200 square feet space and invest Rs. 30 lacs. Profits were to be shared in the ratio of 3:7 between Music World and the franchisee. ​
While Shekhar was excited about working with a renowned brand, he was worried if Rs. 30 lacs was too high an amount to shell out. ​
He did not have the entire amount with him and was thinking of borrowing from the bank. He made enquiries with other Music World franchisees located in towns like Patna and Ranchi, as he expected similar football in Jamshedpur. A franchisee in Patna had sales revenue varying from 1-2 lacs rupees per month with profit margin in the range of 25-30%. Satisfied, Shekhar decided to proceed.​
Soon, he was on a look out for the space. Jamshedpur had three main areas – Bistupur, Sakchi and Sonari. All areas were inter-connected by good roads. Bistupur was a business area where most of the high-end retail formats were located. Most upper middle class and higher-class customers shopped there. ​
It was also the education hub of the city. On the other hand, Sakchi was a growing lower middle class business area and Sonari had mostly residential population.​
Shekhar was in favour of choosing Bistupur as it was the place where he shopped. However, he soon stumbled across problems. Not only it was difficult to obtain space in Bistupur but property rentals touch 30-40 rupees per square feet per month. Rentals at Sakchi and Sonari were in the range of 15-20 rupees per square feet per month. Also, Shekhar's friend, who stayed in Sakchi, told him that a few branded outlets were opening in Sakchi and it seemed to be the fastest growing market in Jamshedpur, with highest ratio of teenagers. But Shekhar was not in favour of Sakchi due to its low image. ​
He expected to target the growing crowd in Bistupur. High real estate prices in Bistupur and his low assessment of the Sakchi market created confusion in Shekhar's mind. ​
To give the decision some serious and fresh thought, he decided to hit the Jamshedpur-Ranchi highway in his newly acquired car.​
Q1. Suppose sales in Patna and Bistupur are likely to be same, how many years​ would it take for Shekhar to recoup the investment (consider Zero inflation)?​
Ans. 1. Less than five years​
2. Less than seven years
3. Less than eight years
4. Less than nine years
5. Maybe never
Q2. What could be the most likely reason for Shekhar's bias in favour of Bistupur?​
Ans.

1. Presence of a college going crowd, as he felt they were the customers for the latest music.​
2. Crowded (hoi polloi) image of Sakchi.​
3. It was difficult for Shekhar to associate non- Bistupur areas with good quality products.​
4. Higher rentals in Bistupur.​
5. Patronage of Bistupur shops by executives and their families.​
Q3. How best should Shekhar resolve his confusion?​
Ans.

1. By investing in the franchise​
2. Do not invest in the franchise and look for different brand name(s).​
3. Go back to Singapore and start looking for a job.​​
4. Do a further in-depth study to find the drivers and potential of the business.​
5. Approach another music company for setting up a franchise.​
Q4. How best should Shekhar resolve his confusion?​
Ans.

1. Financial capability of entrepreneur.​
2. Changes in music industry.​
3. Future market growth
4. Profitability of business in first couple of years.​​
5. Real estate prices
For Questions 5-7
In calendar year 2008, there was turbulence in the air as Jet Airway's Chairman pondered what course of action the airline should take. Air India was also struggling with the same dilemma. Two of India's largest airlines, Air India and Jet Airways, had sounded caution on their fiscal health due to mounting operational costs. A daily operational loss of $2 million (Rs.8.6 crore) had in fact forced Jet Airways to put its employees on alert. Jet's senior General Manager had termed the situation as grave, Jet's current losses were $2 million a day (including Jet-Lite ). The current rate of Jet Airways' domestic losses was $0.5 million (Rs2.15 crore) and that of JetLite was another $0.5 million. International business was losing over $1 million (Rs 4.30 crore) a day. ​
The situation was equally grave for other national carriers. Driven by mounting losses of almost Rs 10 crore a day, Air India, in its merged avatar, was considering severe cost-cutting measures like slashing employee allowances, reducing in-flight catering expenses on short-haul flights and restructuring functional arms. The airline also considered other options like cutting maintenance costs by stationing officers at hubs, instead of allowing them to travel at regular intervals.​
Jet Airways, Air India and other domestic airlines had reasons to get worried, as 24 airlines across the world had gone bankrupt in the year on account of rising fuel costs. In India, operating costs had gone up 30-40%. Fuel prices had doubled in the past one year to Rs 70,000 per kilolitre, forcing airlines to increase fares. Consequently, passenger load had fallen to an average 55-60% per flight from previous year's peak of 70-75%. Other airlines faced a similar situation; some were even looking for buyers. Domestic carriers had lost about Rs 4,000 crore in 2007-08 with Air India leading the pack."​
As against 27% wage bill globally, our wage bill is 22% of total input costs. Even then we are at a loss," an Air India official said. Civil aviation ministry, however, had a different take. "Air India engineers go to Dubai every fortnight to work for 15 days and stay in five star hotels. If they are stationed there, the airline would save Rs 8 crore a year. This is just the tip of the iceberg. There are several things we can do to reduce operational inefficiency". According to analysts, Jet Airways could be looking at a combined annual loss of around Rs 3,000 crore, if there were no improvements in operational efficiencies and ATF prices. Against this backdrop, the airline had asked its employees to raise the service bar and arrest falling passenger load.​
Q5. Which of the followings are the reasons for Jet Airways not doing well?​
Rising ATF prices​
Reduced passenger load​
Declining service quality​
Staff traveling to Dubai​
Ans. 1. 1 and 2
2. 2 and 3
3. 1, 2 and 3
4. 1, 2 and 4
5. 1, 2, 3 and 4
Q6. The total loss for the airline industry was likely to be Rs. 10,000 crore. Jet​ Airlines lost Rs. 3,000 crore, Air India lost Rs. "X" crore and "rest of the airlines"​ lost Rs. "Y" crore. What was the loss for the "rest of the airlines", in 2008?​
Ans. 1. Cannot be determined
2. Rs.3,350 crore
3. Rs. 3,690 crore
4. Rs. 3,340 crore
5. None of the above
Q7. Suppose fuel constitutes 30% of the revenues, do you think airlines would​ be in a better situation by reducing prices?​
Ans. 1. Yes
2. Data insufficient to reach decision​
3. No
4. It would not matter
5. None of the above
For Questions 8-11
Tina, a blast furnace expert, who works as a technology trouble-shooter stays in Jamshedpur. She has got an important assignment in Delhi, which requires six hours to complete. The work is so critical that she has to start working the moment she reaches the client's premises. She is considering various options for her onward and return journey between Jamshedpur to Delhi. A quick search revealed that ticket from Jamshedpur to Delhi is available in two trains. Trains 12801 and 12443 depart from Jamshedpur station at 06:45 hrs and 15:55 hrs and reach Delhi next day at 04:50 hrs and 10:35 hrs respectively. Trains 12444 and 12802 start from Delhi at 17:20 hrs and 22:20 hrs and reach Jamshedpur next day at 10:35 hrs and 20:05 hrs respectively. ​
Another option is to reach Ranchi by a three hour road trip and take a flight to Delhi from Ranchi. ​The distance between Ranchi and Delhi is covered in 105 minutes both-ways by any of the scheduled flights. Air India operates two flights, AI 9810 and AI 810, which depart Ranchi at 8:00 hrs and 15:25 hrs respectively. Flight number IT-3348 operated by Kingfisher Airlines departs Ranchi at 19:20 hrs, Return flights operated by Air India, AI 9809 and AI 809, depart Delhi at 5:50 hrs and 11 :00 hrs respectively. Flight number IT-3347 operated by Kingfisher Airlines departs Delhi at 17: 10 hrs.​
From Tina's home Jamshedpur railway station is five minutes drive, and her destination at Delhi is 90 minutes and 30 minutes drive from airport and railway station respectively. One has to reach the airport at least one hour before the scheduled departure to complete the boarding procedure. At every railway station she loses five minutes in navigating through the crowd.​
Q8. If Tina wants to minimize the total time out of Jamshedpur, the best option​ for her, from the options​
Ans. 1. Al 9810 and return by IT 3347.​
2. AI 9810 and return by train number 12802.​
3. IT 3348 and return by AI 9809.​
4. Train number 12443 and return by train number 12444.​
5. AI 9810 and return by train number 12444.​
Q9. Tina gets a message that her work has to be completed between 9:00 hrs. And​ 17:00 hrs. If she wants to minimize the total time out of Jamshedpur, the best​ option, from the options given below, for her among the following is to go by​
Ans. 1. Train 12443 and return by Train 12444​
2. Train 12801 and return by Train 12802​
3. AI 9810 and return by AI 9809​
4. AI 810 and return by AI 9809​
5. IT 3348 and return by IT 3347​
Q10. Tina has to appear for an exam on 8th of January in Jamshedpur and she can start​ from her residence in Jamshedpur only after 16:00 hrs of the same day. Choose​ the option, from the options given below, that will help her to minimize the total​ time out of Jamshedpur. ​
Ans. 1. Go by Train 12443 and return by Train 12444​
2. Train 12801 and return by Train 12802​​
3. Go by IT 3348 and return by Train 12801​
4. Go by AI 810 and return by Train 12801​
5. Go by AI 9810 and return by AI 9809​
Q11. If Tina decides to minimize the in-between waiting period, the option that she​ should choose from the options given below, will be: ​
Ans. 1. Go by Train 12801 and return by IT 3347​
2. Go by Train 12443 and return by Train 12802​
3. Go by Al 9810 and return by Train 12802​
4. Go by Al 810 and return by AI 9809​
5. Go by IT 3348 and return by AI 809​