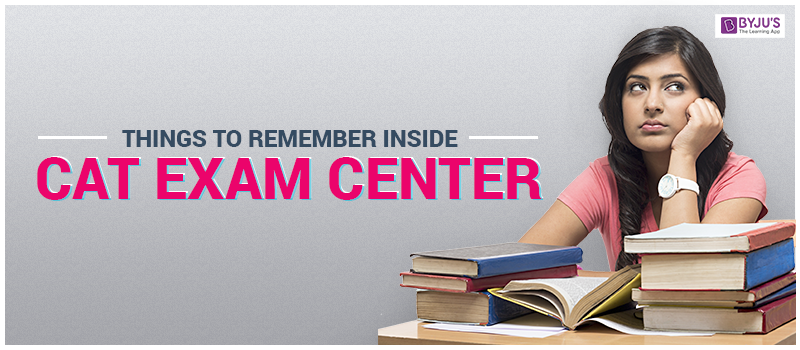 CAT 2023 exam is a computer-based test that will be held tentatively in the last week of November 2023. The CAT exam will be conducted in several cities in different centres. It's normal for candidates to be anxious on exam day, and they might miss these guidelines while going to the exam centre.
Follow the below-given rules to prepare and be prepared to go to the exam centre. With these tips at hand, one can stave off their anxieties. Here are some of the things to be kept in mind on the day of the exam.
Admit Card:
Take your admit card without fail. Needless to say, without it, you won't be allowed to enter the exam hall. The CAT admit card will be available until the date of the exam (in November 2023, and it is expected to be released by the last week of October 2023)
Valid ID Proof:
Here is the list of accepted ID proofs to take along with you while going to appear for the exam.
College ID Proof
Employee ID
Voter I Card
Driving License
PAN Card
Passport
Aadhar Card
Name Change Certificate:
If you changed your name within the process, carry the name change document with you to the exam centre. So, if this is applicable, carry the legal document with you.
Do not carry anything other than Admit Card and ID Proof:
Nothing except these two documents is allowed inside the centre. Hence, you shouldn't carry anything – not even your bags or stationery items (since CAT is a computer-based test). Even shoes and jewellery are not allowed inside the exam centre.
Do not carry a calculator with you:
For the non-MCQ type of questions, you will be given an on-screen calculator during the test.
Do not carry a watch or timer with you:
While taking the test, the timing will be taken care of by the on-screen timer for each section. You won't be allowed a watch inside the exam centre.
Do not carry any personal belonging with you:
Personal belongings like bags, mobile phones, wallets etc., are not allowed inside the exam centre. If you carry them, you should leave them outside the centre. Some centres might not have the facility to guard your belongings, so it's better not to carry them at the exam centre.
Keep these things in mind for attempting the CAT exam successfully. With proper dedication and persistence, the CAT exam can be easily aced. To get more important exam tips, stay tuned to BYJU'S. Also, get last-minute preparation tips to attempt the exams more effectively.