Find in this article here updated information about the Gujarat Common Entrance Test 2021 (GUJCET 2021). GUJCET 2021 is held by Gujarat Secondary & Higher Secondary Board (GSEB) for admission to B.Tech, B.Pharm and D. Pharm a programmes. The Gujarat Common Entrance Test (GUJCET) is usually open to candidates who have passed or are appearing in the current year's Class 12th exam from a recognised board.
The Gujarat Common Entrance Test 2020 (GUJCET 2020) was held on 31 March 2020. Gujarat Secondary Education Board (GSEB) officially started the registration process for the GUJCET 2020 Exam and the last date for the online application process for this exam was 5 February 2020. 
Students, who are eligible to take the exam can register online at the GSEB official Website or directly on the official website for the exam.  The Application Fees of 300 Rupees can be paid up either online or offline at an SBI branch. 
Candidates who wish to apply online for the State Entrance Exams can check for eligibility at the official website.
Steps to Apply For Gujcet 2021 
Steps to apply online for the Gujcet 2021 exam are given below:  
Method 1:
Step 1- Get on the GUJCET Official Website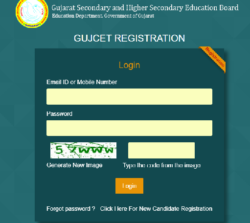 Step 2- Enter the login details 
Step 3- Type the Code from the Image 
Step 4- If you forget the password, click on 'forgot password' button and reset it 
Step 5- Click on the payment details link 
Fee payment can be done online via SBI Epay System using Credit Card, Debit Card or Net Banking. 
Step 6- After making the payment, fill in the application form and submit it online. 
Method 2: 
Step 1: Enter the GSEB Official Site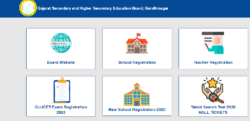 Step 2: Click on the GUJCET Exam Registration 2021 Link 
Step 3: It will take you to the GUJCET Online Application Page 
Step 4: Follow instructions as mentioned in step 2 to 6 in Method 1
The GUJCET exam is conducted by the Gujarat Board for Groups A, B and AB. On passing this exam, candidates will be eligible for admission to degree/ diploma programmes in Engineering and Pharmacy. Meanwhile, the syllabus for this exam is expected to be as per the NCERT Curriculum that is prescribed for the higher secondary classes. 
The exam paper will include Multiple Choice Questions (MCQs). Nearly 40 questions are expected to be asked from Physics, Chemistry, Mathematics and Biology subjects. Each question is expected to carry 1 mark. At the same time, the time allotted to attempt the questions in Physics and Chemistry is 120 minutes or 2 hours. 1 hour time is allotted to attempt the Biology and Mathematics sections, respectively. Exams, in the meantime, will be conducted in Gujarati, English and Hindi medium. 
Results for the Gujcet 2021 exam are expected to be further declared after Gujarat Board releases the results for Class 12 Science Stream Students.