When the glass surface is coated with a material of R.I. n' = √n(n = R.I of glass) of appropriate thickness, reflection is zero because of interference between various multiply reflected waves. We show this below.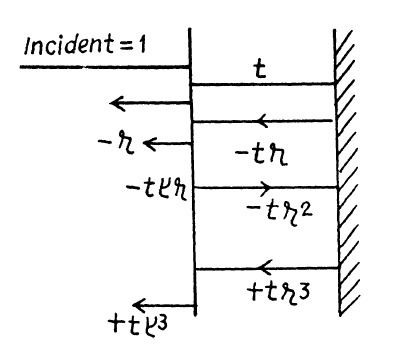 Let a wave of unit amplitude be normally incident from the left. The reflected amplitude is -r where r = (√n - 1)/(√n + 1)
Its phase is -ve so we write the reflected wave as -r. The transmitted wave has amplitude t
t = 2/(1 + √n)
This wave is reflected at the second face and has amplitude -tr
(because (n - √n)/(n+√n) = (√n - 1)/(√n + 1)
The emergent wave has amplitude -tt'r.
We prove below that -t t' = 1 - r2.
There is also a reflected part of amplitude t r r' = -tr2 where r' is the reflection coefficient for a ray incident from the coating towards air. After reflection from the second face a wave of amplitude
t t' r3 = +(1 - r2)r3
emerges . Let δ be the phase of the wave after traversing the coating both ways. Then the complete reflected wave is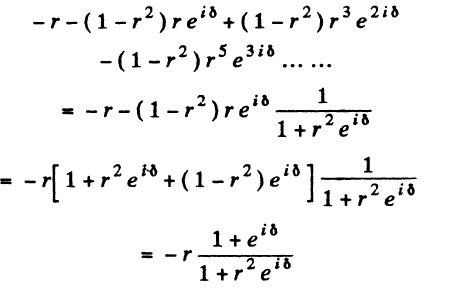 This vanishes if δ = (2k + 1)π.
But δ = (2π/λ)2√n d
So d = (λ/4√n)(2k + 1)
We now deduce t t' = 1 - r2 and r' = + r. This follows from the principle of reversibility of light path as shown in the figure below.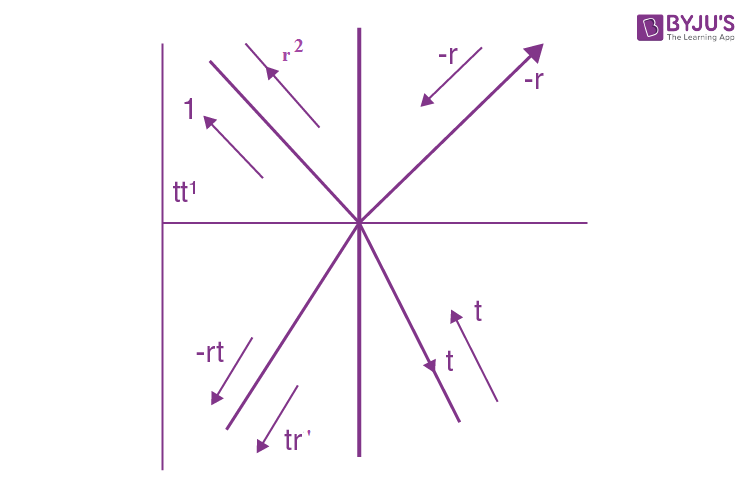 t t' + r2 = 1
-rt + r't = 0
So t t' = 1 - r2
r' = + r
(-r is the reflection ratio for the wave entering a denser medium).