(a) If light is received by the observer at P at the moment when the source is at O, it must have been emitted by the source when it was at O' and travelled along O'P.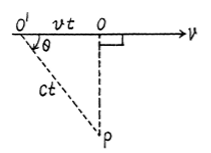 Then if O'P = c t, then O'O = vt
And cos θ= v/c = β
In the frame of the observer, the frequency of the light is ω while its wave vector is
w/c (cos θ, sin θ, 0)
we can calculate the value of ω by relating it to proper frequency ω. The relation is
ω0​=1−β2​ω​=(1−βcosΘ)
To derive the formula is this form it is easiest to note that
1−c2v​​ω​−1−c2v​​kv​
Is an n variant which takes the value ω0 in the rest frame of the source.
ω=1−β2​ω0​1−β2​​=1−β2​ωo​​=5.9×10−10sec−1
(b) For the light to be is an received at the instant observer sees the source at O, light must be emitted when the observer is at O at 900 = θ
cos θ = 0
ω0​=1−β2​ω​
ω=ωo​1−β2​=1.8×1010sec−1
In this case the observer will receive light along OP and he will "see" that the source is at O even though the source will have moved ahead at the instant the light is received.