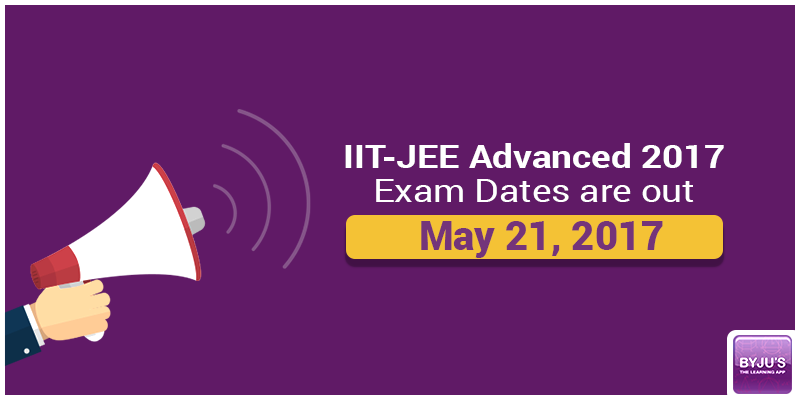 IIT JEE Advanced 2017 is scheduled to be held in the month of May. IIT Madras has been granted the authority for conducting the JEE Advance exam in 2017. As for the date of the exam, the Joint Admission Board (JAB) during a meeting at IIT Madras has decided that the exam is going to be held on May 21, 2017.
Examination Schedule
The JEE Advanced examination mostly consists of two papers which include Paper 1 and Paper 2. The duration of each paper is set for three hours.
| | | | |
| --- | --- | --- | --- |
| Paper | Day | Date | Time |
| Paper 1 | Sunday | May 21, 2017 | 9 am to 12 |
| Paper 2 | Sunday | May 21, 2017 | 2 pm to 5 pm |
Eligibility Criteria
For 2017 JEE Advanced, 20 thousand more candidates will be eligible to take up the exam after clearing JEE Mains. Earlier 2 lakh students were eligible to take up JEE Advanced, from 2017, 2,20,000 (Two Lakh, twenty thousand) students will be allowed to take up JEE Advanced. However, the candidates should be among the top 2,20,000 (including all categories) after appearing for JEE (Main) 2017.
According to the new guidelines from the Ministry of Personnel and Public Grievances & Pensions, students belonging to OBC-NCL (Other Backward Classes- Non-Creamy Layer) should submit the certificates issued after April 1 to be considered valid.
There is a lot of speculation amongst students that for JEE Main 2017, the score of board marks will be regarded as only for eligibility and not criteria for JEE Rank. Earlier the rank was given based on JEE Score(60%) and marks obtained in Class 12 Board exams  (40%).
If the board scores are taken into consideration, then the cutoff for SC and ST candidates for Class 12 board exams will be reduced to 65% from 70%.
Number Of Attempts
A candidate can appear for JEE (Advanced) for a maximum of two times in consecutive years.