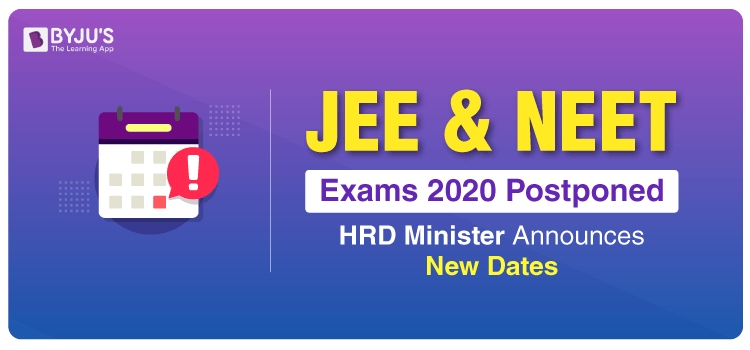 JEE Main and NEET 2020 has yet again been rescheduled for the second time. New exam dates have just been announced by Union HRD Minister, Ramesh Pokhriyal announced. He has stated that the NEET and JEE entrance examinations have been postponed till September 2020. This is big news for those appearing in JEE Main and NEET exams. As per the minister, this decision has been made or initiated keeping in mind the safety of the aspirants.
Meanwhile, JEE Main and NEET exams were previously scheduled to be held on 18-23 July and 26 July, respectively. 
JEE Main, JEE Advanced and NEET New Schedule:
JEE Main exam will be held between 1st to 6th September
JEE Advanced  exam will be held on 27th September and 
The NEET exam will be conducted on 13th September.
The decision was made by an expert panel set up by the HRD Ministry and the National Testing Agency (NTA) to deal with the coronavirus pandemic. To ensure health and safety of the candidates, the HRD Ministry had asked the NTA to make arrangements so that COVID-19 protocols are followed at all centres.
Mr. Pokhriyal's Twitter handle read, "Keeping in mind the safety of students and to ensure quality education we have decided to postpone JEE and NEET examinations. JEE Main examination will be held between 1-6 September, JEE advanced exam will be held on 27 Sept and NEET examination will be held on 13 September."
Recently, parents of candidates in Middle Eastern countries, who are aspiring to appear for the National Eligibility cum Entrance Test applied to the Supreme Court to postpone the exam. According to the report, parents had asked for students to be allotted new centres or to postpone exams for students from Doha, Qatar, Dubai, the United Arab Emirates and other Middle Eastern countries. The PIL states that it would be extremely difficult for candidates to come to India to appear for the exams.