Answer: a
Change in volume can occur due to following reason:
(i) Density/volume of fluid changes due to increase or decrease in temperature.
(ii) The volume of material which is immersed changes due to temperature change [This argument need not to be considered as change in volume of the material is infinitesimal as co-efficient of volume thermal expansion has a very low value]
• For floating condition we can write [T = O°C] [Archimedes – principle]
Weight of the block = Buoyant force on the block
W = FB
W = ρwatergVimmersed ……(1)
• As buoyant force depend on the density of water if it changes due to temperature change [ρwater is maximum at 4°C]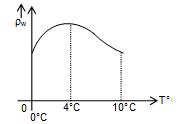 From (1)
mg =ρwaterg Vimmersed [m = mass of block]
Vimmersed= m/ρwater
Volume outside water:-
Vo = Vtotal – Vimmersed
0 – 4°C Density ↑ Vimmersed ↓ Vo ↑
4°C – 10°C Density ↓ Vimmersed ↑ Vo↓
Hence volume outside Block changes according to immersed volume which depend on density of water.
Above statement written to understand that density variation curve & volume outside water of the block with temperature change is same.
V0​∝Vi​1​
Vi​∝ρwater​1​
V0​∝ρwater​