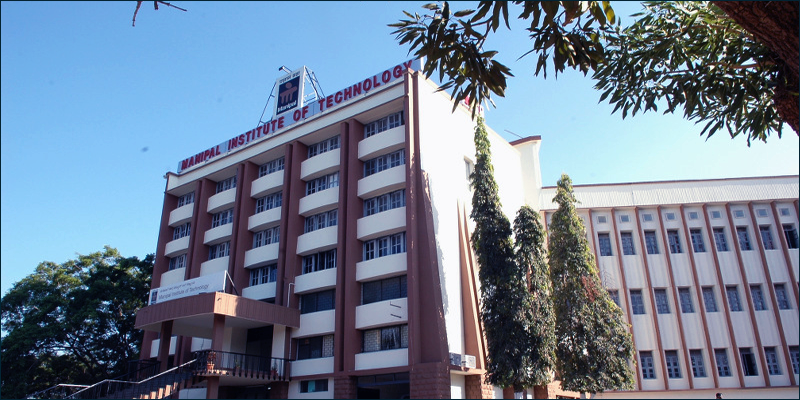 The motto of Manipal Institute of technology is "Pragyanam Brahanam" which translates to "Knowledge is power". The institute was established in 1957 as one of the first self-financing Engineering Colleges in the country, and initially offered, only 3 engineering branches namely: Civil, Mechanical and Electrical but now offers a Bachelor degree in, Biomedical, Biotechnology, Chemical, Industrial Production, Instrumentation and control, Printing, Electronics, Electrical and Electronics, Computer Science, Information Technology.
MIT – Campus
Manipal Institute of Technology boasts of a lush green suburban campus of nearly 188 acres.
The catering is handled by the MIT Food Court, MIT Cafeteria, and other messes on campus. The campus has continuous water and power supply. MU's campus-wide wireless network can support up to 14000 users. The T-school also has various grocery shops, eating joints, a basketball court, football court, a cricket ground, swimming pool, gym and a well-stocked library, Innovation centre and auditorium. The campus is usually very lively and is known for various extracurricular activities that take place all round the year by clubs such as Leo Club, Music and Fine ArtsClub, Dramatics clubs (like Aaina, Ada, Dramanon ), RedX, RoboManipal, etc. Students also get to explore their technical subjects beyond the classroom due to the technical clubs such as IEEE, AISTE, ICHE, Formula Manipal, etc.
MIT – Fests
MIT fests include Techtatva and Revels
Techtatva is the annual technical festival which is held to encourage students to showcase their extracurricular technical abilities. Revels are the annual four-day cultural fest. The festival comprises several competitions where students showcase their talents in the visual and performing arts.
MIT – Branches And Cut Offs

MIT – Research And Placement
MIT encourages research among its students by giving budgetary provisions and capital allocations. In addition to this, they have also supported and funded many student start-ups in the recent past. They have a separate Business incubation centre for this known as MUTBI.
The institute undertakes sponsored research programs supported by funding agencies such as DST, CSIR, AICTE and the Ministry of Environmental Sciences. It has collaborative research programs in association with premier research laboratories and institutes in India and abroad. Some of the top companies that come for campus recruitment every year are:
ABB
Amazon
BPL Medical
Century Link
Cerner Healthcare
CISCO (Engg, TAC, Services)
Daimler
Deloitte Consulting
EMC Corp
GE Healthcare
Goldman Sachs
MIT – Notable Alumni
MIT has produced some of the best Engineers and Scientists in the past, some of the most notable alumni include:
Satya Nadella (CEO, Microsoft)
Rajeev Suri (CEO, Nokia)
Rajeev Chandrasekhar (Rajya Sabha Member of Parliament, President-CEO of Juniper capital)
Banmali Agrawala (CEO and president, GE South Asia)
MIT – Ranking
MIT Manipal is the top ranked institute in the State of Karnataka and is ranked 4th among the Private Engineering Colleges in India by The Week.
It is often considered an excellent college for overall development as students from all parts of the world can be found here which exposes them to a proper cultural mixing and exposure to different beliefs, ideas, customs, and practices.
Get more information on other Top Engineering colleges at BYJU'S.