It is hard for one to witness the beauty of nature and not fall for it. Whether we listen to the mesmerising sounds of birds in the morning or love to watch the brilliant sunset in the evening, there is something beautiful about nature that fills us with joy. We are extremely lucky beings that we get to enjoy the beauty of nature every day. Let us discuss the different things that nature provides us through this short essay on beauty of nature.
When we describe the beauty of nature, several aspects like trees, plants, animals, water, hills and weather come into play. Through essay writing on beauty of nature, your kids will be able to express what they admire about nature clearly. Moreover, this essay will reveal how kids pay close attention to things that we hardly notice or care about.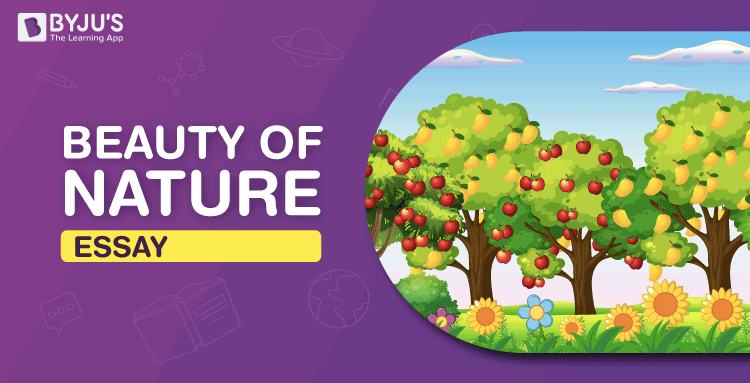 Experience with the Beauty of Nature
During the mid-summer season, I went to a beautiful hill station with my family. Even though the ride was long, the beautiful scenery on the way kept me entertained. I could see deep forests and misty mountains as we went higher and higher. The winding roads also fascinated me, and I felt as if I had entered a different world. Upon our arrival at the place, I immediately fell in love with nature as it was preserved as such with fresh fragrant flowers of different kinds, cool weather and lush greenery. I found all my worries melting away as I walked amidst this wonderful nature.
Nature offers limitless happiness and satisfaction to us. As a nature enthusiast, one would find joy in the calm breeze, flowing streams or dancing flowers. From the little pebbles to sturdy rocks, everything is part of nature, which adds charm to it. Even nature creates music through the running rivers, twittering birds and gentle winds. When the sun sets and the moon takes its place, the whole sky is lit, and there is nothing more dreamlike than sleeping under the starry sky.
The seasons change, and each has its distinct beauty that cannot be matched. While spring brings in the best of nature through its vibrant greenery, winter calls for a misty and foggy beauty of nature. Autumn covers nature with a golden carpet of leaves and flowers, and summer witnesses the brightest days with delicious fruits. Besides, there are many living creatures, like birds, insects, fish, etc., in varying shape, size and colour that makes nature lively. A single peek through the window of your house would help you understand the true beauty of nature, which will surely lighten your mood.
Moral of the Essay
Each one of us will have a unique feeling when we look at nature. You can know what your child likes about nature through this essay writing on beauty of nature. We can see, feel and hear the glamour of nature in every step that we take and the air we breathe. This short essay on beauty of nature would inspire your kids to look around and take delight in its different forms so that they will be energised and enthusiastic.
FAQs
Q1
How to enjoy the beauty of nature?
All of us can enjoy the beauty of nature in the ways we see it. You could either go for an early morning walk or jog in the evening, where you could be close to nature, thus imbibing its beauty. Travel with your friends and family to hill stations, beaches and exotic places, and enjoy the beautiful sunrise or sunset.
Q2
What are the factors that affect the beauty of nature?
Although nature maintains its beauty, human exploitation has caused serious threats to nature. The excessive cutting down of trees for industry and home purposes and the pollution of water, air and land through the dumping of waste from factories are the main factors that threaten the beauty of nature.
Q3
How to preserve the beauty of nature?
Nature is an invaluable gift given to us, and we must not involve in any activity that would diminish its beauty. By planting more trees, avoiding the use of plastic, and reusing and recycling things, we can maintain the beauty of nature as it is.