Here we have provided an essay on Bhagat Singh in English for kids. This essay will assist in getting a clear understanding of how they can frame a good Bhagat Singh essay in English in a simple way.
Bhagat Singh is one name that needs no introduction. He was a brave warrior, a revolutionary who sacrificed his life for the sake of India's independence from British rule.
India lost many sons and daughters during the fight for independence. One of the most adored and celebrated freedom fighters is Bhagat Singh. We have included a simple 10-line essay on Bhagat Singh here. You can also download this outstanding short essay on Bhagat Singh in a colourful PDF format, through the link provided below.
Bhagat Singh Essay in English 10 Lines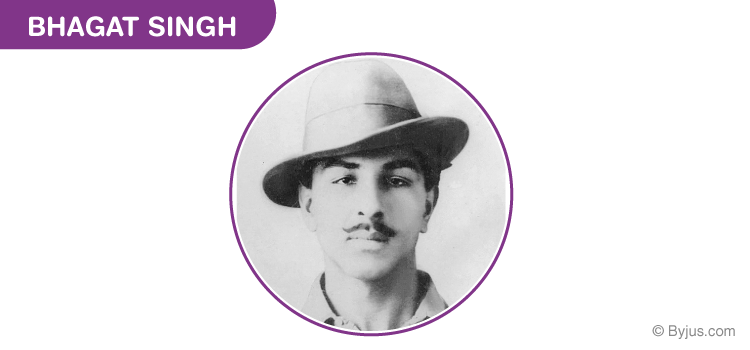 Bhagat Singh was one of the most prominent and renowned freedom fighters of India.
He was a socialist revolutionary who bravely fought for the independence of the country.
He was born in September 1907 in Banga village in Punjab (now in Pakistan) to a Sikh family.
His father's name was Kishan Singh and his mother's name was Vidyavati.
Some of his family members were active participants in the Indian independence movement, while others had been part of Maharaja Ranjit Singh's army.
He was a strong supporter of the Swadeshi Movement.
In later years, his trust in non-violence withered. He began to believe that only an armed rebellion could bring independence. He was also highly influenced by Lala Lajpat Rai.
When Lala Lajpat Rai died from injuries sustained in a lathi charge ordered by a British police superintendent, Bhagat Singh decided to avenge his death.
He, along with his associates, was charged and found guilty of killing a British police officer.
Bhagat Singh was hanged on 23 March 1931 in Lahore along with his associates, Shivaram Rajguru and Sukhdev.
The given topic 'Bhagat Singh essay in English' is a prevalent topic for essays for kids. Hence, the above essay on Bhagat Singh will help kids in writing insightful statements about this topic. We hope you loved reading the essay on Bhagat Singh in English. You can also have a look at our collection of other essays for children.
When kids write a Bhagat Singh essay in English in 10 lines, they get to ponder over the topic and express their views about it. Bhagat Singh, Chandrashekhar Azad, Sukhdev, etc. were some of the revolutionaries who were firm believers in sacrifice and armed rebellion against foreign rule over the country. While writing about such great warriors, children would get a closer glimpse of the pre-independence times and the price our freedom fighters paid for the lives we are enjoying today.
We also have a plethora of other learning resources that you might be looking for. Intriguing worksheets, brain-tickling general knowledge questions, exciting stories, poems for elementary school children, NCERT Solutions, easy trivia questions on various topics, etc. are available in our kids learning section. Explore this section and let your kid set foot on the best learning journey.