As we grow up and look back on our childhood days, some memories come back to our minds. Although we were so young, these memories are so powerful and vivid that we relive them from time to time. For some, it may be a happy memory, and for others, it may bring up bitter realisations and experiences. But whatever the childhood memory is, it is these memories that guide us and make us enjoy our lives.
Since childhood is the most significant part of our lives, here is a short essay on childhood memories to help you understand their importance. Through this childhood memories essay introduction, we hope to encourage you to write down your unique memories.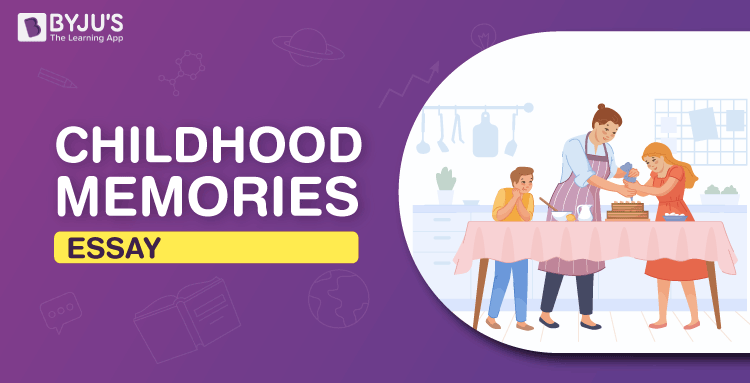 Experience of Childhood Memories
My most precious childhood memory is that of my mother preparing delightful snacks at home when I return from school. Even though school is a great place to learn and play, sometimes I have bad days at school when I get scolded by teachers or fight with my friends. But good days also followed when I scored top marks in the class and helped my classmates with their homework. Regardless of my good and bad days at school, the one thing that remained unchanged was my mother waiting patiently for me with a bowl of delicious snacks or cakes.
When I returned home after school, the smell of freshly baked cookies and fried snacks always enlivened me. I would be looking forward to eating all these goodies as I hear the last bell in the school. As soon as I reached my home, I would race towards the kitchen where my mother would be preparing the snacks. But before I could see what she was making, she would make me play a small round of 'Guess the Snack' game. I will have to guess what she made by the smell. I loved this little game, and I believe this is why I have a special interest in cooking and baking.
During the times I am not studying or playing, I would be in the kitchen either helping my mother prepare food or experimenting with new recipes myself. I remember making a lemonade where I had to squeeze the juice of 3 lemons to finally make a glass. Even though my mother chided me for creating a mess in the kitchen, this act of making something myself deeply satisfied me and made me happy. This is my fondest childhood memory where I learned to make lemon juice, and it still brings me joy when I think about it.
Moral of the Essay
Writing a childhood memories essay in English would enable you to recall the best moments of your childhood once again. You will not know how much a particular memory remains so close to your heart until you start thinking or speaking about it. And by recollecting those memories, you will see yourself smiling. Maybe it is at a point when you feel low that you dream about your childhood memory. Surely, it will help you forget your worries. So try writing a short essay on childhood memories.
Frequently Asked Questions on Childhood Memories Essay
What is the significance of childhood memories?
Childhood memories are essential for defining who you are and what you will become in life. They are a reflection of your moods and feelings. Generally, people who've had happy childhood memories were found to be optimistic, and they seem to enjoy life as it comes. On the other hand, people who've had sad memories tend to be more mindful, and they take their decisions very carefully.
How do you know which childhood memory is your favourite?
Whatever we feel or whichever mood we are in, there will be some memories that repeatedly come to our minds. Sometimes, only the bits and pieces of the memory will be vivid. And yet, they frequently play in our minds. If a larger picture forms, then it is your favourite memory.
What are the common childhood memories one has?
Usually, people remember things which they have done for the first time. For example, the first day at school, first journey on a train/plane or first swimming lesson.