Introduction
Imagine if we had to endure the unbearable heat during the summers or live in darkness during the night. We can't think of a life without a fan or light, can we? But have you wondered what makes them work? Electricity is the beautiful phenomenon that is behind the running of various appliances today. We cannot underestimate the power of electricity in our lives, and this long essay on electricity will help your kids to be familiar with its uses and benefits.
If science has given us many innovations, electricity is the best of them. Though electricity has many purposes, its excessive and careless use can cost us. To make your kids aware of it, here is a simple save electricity essay.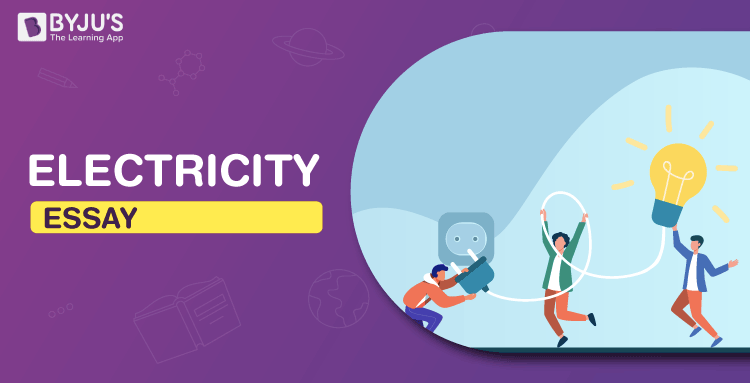 Importance of Electricity
There is hardly anything that does not work on electricity. Whether we need to watch TV or run a grinder, electricity is an important component that makes them function. This long essay on electricity shows how electricity makes our lives easier and more comfortable. Earlier, if we relied on handmade fans to keep ourselves cool, we now have to simply tap on the switch to run our electric fans, pedestal fans or ceiling fans. Similarly, the old kerosene lamps are now replaced by modern lights and tubes that fill the whole place with light. In this manner, electricity has given us many comforts, and it is hard for us to imagine going back to living without it.
Nearly every aspect of human life has benefited from using electricity. Apart from simplifying our lives at home by inventing electrical appliances, electricity has enabled easy communication through the introduction of telephones and fax machines. Besides, its use is found in many industries and factories to run large machines. If electric trains took the place of steam engines in the transportation industry, new devices and instruments, like X-ray machines, scanning devices, ECG and such, have changed the way the medical industry operates. Thus, we can say that the unseen presence of electricity has filled our lives with hope and joy.
Ways to Save Electricity
We all know that we get electricity from coal and water. Coal and petroleum are non-renewable resources, and there is a limit to using them, as it would take enormous time to replenish these resources. Thus, it is important to use electricity productively. Give your children this free printable essay on electricity from BYJU'S so that they understand its significance.
In this save electricity essay, there are some effective tips to conserve energy. We often tend to switch on the lights even in broad daylight or use a fan when it is extremely cold. Such unnecessary use of electricity must be avoided as you can open your windows to let in light and wind. Limit the charging of your phones and laptops, and remember to unplug them after it is fully charged. Also, try to spend maximum time outdoors so that you can restrict the time of watching TV. Thus, by taking such simple measures, we can save electricity.
Found this essay interesting? You can access more essays similar to the essay on electricity, along with a range of kid-friendly learning resources, on BYJU'S website.
Frequently Asked Questions
Q1
Explain how electricity is produced.
Electricity is mainly produced from non-renewable sources, like coal and petroleum. But nowadays, electricity is also generated from wind, flowing water, sun and tides to make electricity cheap and easily available.
Q2
What are the uses of electricity?
Electricity is widely used in homes, industries and factories. Inventions like fans, lights and other electrical devices, like washing machines, refrigerators, televisions, computers and grinders, work on electricity.