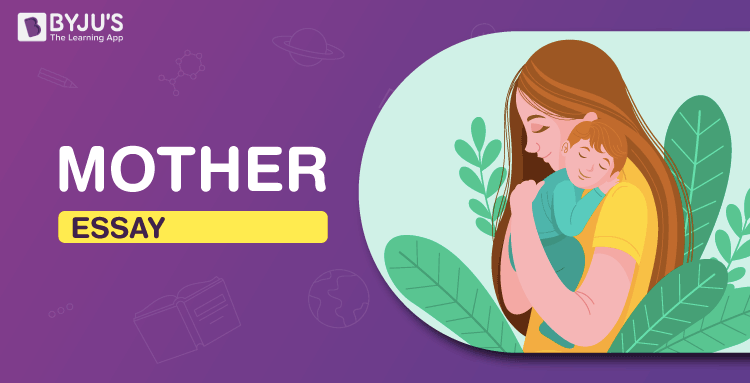 Introduction
Suppose you had a bad day at school and you come home sulking about it. Who do you think would first notice the change in your mood? Who looks after you when you are ill or supports you when you fall low in motivation? There is only one answer to this question, and that is our mother. The essay on mother is an excellent guide for your children to appreciate the value and worth of mothers in their lives.
We are blessed to have mothers, but some unfortunate ones do not know the meaning of a mother's love. So, this mother essay in English will teach children that it is important to respect and love our mothers as their absence will leave a big hole in our lives which cannot be replaced by anyone or anything.
Related essay: Mother's Day essay
Different Roles of Mothers
Just like a superhero has many powers of flight, super speed and invisibility, our mothers are also endowed with different powers that enable them to become our best friends, teachers, mentors and caretakers. We often wonder how our mothers could take such distinct roles in our lives, but it is these qualities that make our mothers unique and special. In this short essay on mother, we will see how our mothers accomplish these roles with perfection.
There is an unbreakable bond that develops between mothers and children immediately after their birth. Mothers can understand their needs even before children start speaking or walking, and this is why children might tend to incline more towards their mothers. Since a child's birth, his mother stays with him, puts up with his anger and joins him in his playful mischief, which naturally builds their relationship. Thus, the mother can become the child's best friend in no time as she understands him, plays with him and cooks for him.
The mother essay in English also talks about how we learn many things from our mother as she guides us on what is right and wrong. Whenever we make mistakes, our mothers will soon correct them and make us understand why it is not right to do so. She also supports our decisions and is always there for us. A mother is the best teacher and mentor that one could get. Not to mention how she takes care of us when we fall sick and keeps us protected. Our mother is a source of comfort, happiness, relaxation, and they excel in whatever role they perform.
Strengths of a Mother
In this part of the short essay on mother, we will understand her strengths. A mother teaches her child to be strong in any situation, and the mother essay in English shows how a mother could manage different tasks at a time. More than the physical strength, it is her emotional weight and resistance that helps her children overcome problems. She cannot be easily defeated and is always motivated.
Even though our mothers could be strict at times, it is to them that we run towards sharing happy news or talking about our problems. And we need to appreciate her presence by showering them with love. For more exciting content for kids learning, you can check BYJU'S website.
Frequently Asked Questions on Essay on Mother
Q1
What is the importance of a mother in our lives?
Our life without a mother would be dull and lonely as mothers are there for us through thick and thin. From giving birth to children to caring for and looking after them, a mother's influence can be seen and felt in each phase of a child's life. Thus, she is an important part of our lives.
Q2
How can we show our love and respect towards our mothers?
Mothers go through immense sacrifices to bring up their children. Keeping some time apart to spend with your mother and understanding her problems can be a nice way to show our love to her. Always talk openly with her and make sure that the love and understanding is mutual. She might be going through many difficulties in her personal and professional lives. Whenever you can, help her out in her work at home. Always pay heed to her advice and be thankful for everything she does for you. Try to understand them and be a solace to her whenever she needs it.