We know that the famous coffeehouse chain of Cafe Coffee Day has its roots in India. But you are likely to see this cafe even when you travel to different corners of the world. Similarly, Nestle is an international food and beverage company, but we are familiar with the brand as its products reach Indian customers as well. We wonder how an Indian brand was able to start its operations in foreign countries or how an international brand succeeded in opening its store in India.
Globalisation is the right term that describes this phenomenon where economies integrate to exchange goods, services and information. The essay on globalisation will be a helping hand for your kid to gather important points on the topic. If your children understand the simple meaning of globalisation, it would be easy for them to write an essay on globalisation.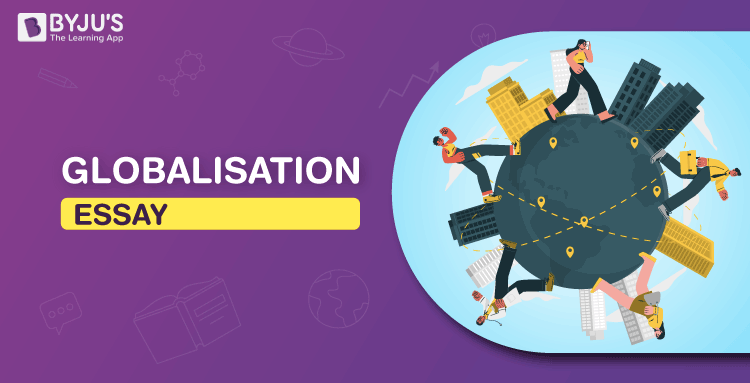 Significance of Globalisation
Globalisation can be explained in a simple statement as the connection between different countries around the globe. Even though globalisation came into existence many years ago when people started transporting goods from one country to another, it is now that it has gained prominence. While the borders between countries seem to become transparent, new opportunities in trade and commerce began to emerge through globalisation.
The impact of globalisation in India is visible from the high standards of living displayed by the people. They have a tendency to buy branded clothes and purchase cars from recognised international companies. When they become conscious of the products they buy and use, naturally, it leads to improved standards of living. Moreover, we gain access to many resources from other countries. When a new smartphone is launched abroad, it is a matter of time before it gets introduced in India.
Thus, we can say that globalisation has many good sides to it as it opens up many job opportunities for people. However, there is a disadvantage of globalisation. Although people get to experience new things through globalisation, it is sad to note that every individual cannot avail of its services. Only the rich have access to the benefits of globalisation while the poor remain in the dark. Nevertheless, there is a certainty that we would get high-quality products and services due to the rising importance of globalisation.
Moral of the Essay
Globalisation has brought forth various options for companies and customers to pick their goods. It was only because of this phenomenon that India was successful in eliminating unemployment to a great extent. We can feel the presence of globalisation in everything that we do; we search for famous brands online or try to get our hands on a similar product used by celebrities. There are both positive and negative aspects of globalisation, but India is soon to witness a revolutionary change in the global market. This short essay on globalisation will help children understand what globalisation is and how it impacts our economy.
Frequently Asked Questions
Q1
How can you describe globalisation?
When different aspects of human life get intertwined, and there is a proper flow of ideas, goods and services between the economies of other countries in the world, it gives rise to the concept of globalisation.
Q2
In what sectors/industries can you see the effect of globalisation?
Globalisation has accounted for a shift in the way trade and commerce is carried out. Since it has become easy to transport products, globalisation has brought forth immense benefits for the clothing industry, food and beverage companies, automobile manufacturers and logistics companies.
Q3
Will globalisation reach a full stop?
It is hard for globalisation to cease its existence completely; however, there are chances that it might get affected due to unforeseen circumstances. For example, the recent COVID-19 pandemic has led to the forced closing of borders of countries for a while to prevent the spread of the disease. But, globalisation was back on track when the situation improved.