We have come across this proverb numerous times. The proverb also makes a very common topic for essay writing in primary classes. Here, we are offering honesty is the best policy essay for kids written in 10 simple lines.
Click on the link provided below to download honesty is the best policy paragraph for kids in a printable PDF format, that can be referred to anytime and anywhere, even when you are not online.
Honesty is the best policy Essay in English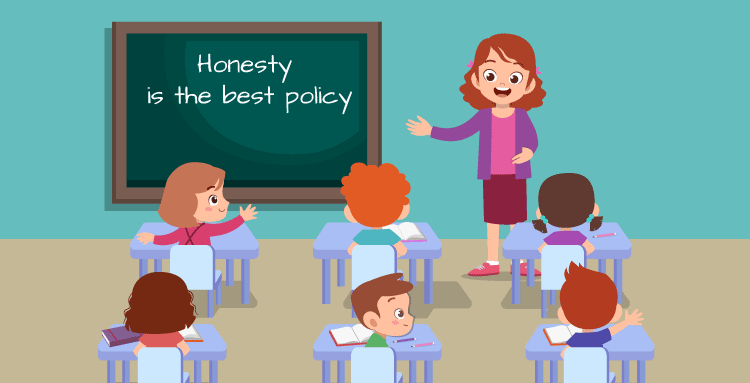 "Honesty is the best policy" is a famous English proverb.

It encourages the quality of being honest i.e. truthful and sincere.

The meaning of honesty is the best policy is that even if one finds lying an easier option, telling the truth is the best course of action.

The proverb puts light on the importance of genuineness and integrity in an individual's life.

An honest person is always more courageous and confident than a dishonest person.

This is because the dishonest person will always be scared of the revelation of truth. Such a person can never be at peace.

Honesty imparts peace and happiness to the individual who practices it.

An honest person tends to make stronger and healthier relationships with the people around.

Honesty is always respected and recognized in society. It is a reflection of one's strong character.

Like all other good values, one learns honesty at home through family members and in school through teachers.
We hope that the above 10 lines on honesty essay in English for kids would help your little one in understanding how to draft a simple and interesting essay on the given topic. Children can also write the same 10 lines under the heading honesty is the best policy paragraph.
Click on the linked article to get more such brilliant essays for kids on other topics that are frequently asked in the primary classes.
Essay writing hones linguistic skills in students. It also sharpens creativity and imagination in the young minds. That is why children are motivated to practise essay writing right from their formative years of learning.
The honesty is the best policy essay in English is our attempt to offer a good example of how kids can write 10 lines essay on this topic.
Along with such exciting essays on various topics, we also have a plethora of engrossing learning resources for your little one- intriguing worksheets, brain-tickling general knowledge questions, interesting stories from famous genres, poems for children, 100% accurate NCERT solutions, easy trivia questions, etc. on our kids learning section. Explore this section and find all that you need in order to assist your kid in excelling in studies.