The moment we are all born, a family is formed, and it is this family that becomes a significant part of our lives thereafter. The father and mother of the child, along with siblings, constitute a family, and they stay together through times of joy and sorrow. In life, we come across many things where we harbour a special liking for certain things. Among all, family is the most loved and respected, and I love my family short essay will help you understand why.
I love my family essay writing is a simple task that you can engage your kids with so that they will be able to appreciate the value of a family, and you can understand what your children are capable of achieving through a well-knit family.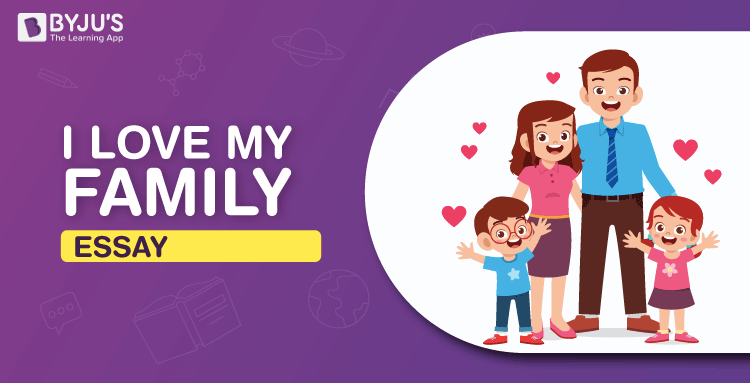 Experience on I Love My Family
I am fortunate to have been born into a family that loves me and cares for me. My family has 6 members, and they are my father, mother, grandfather, grandmother, brother and myself. As I am the eldest, I was able to get great affection from my grandparents and parents. My family has given me ample support whenever I face any difficulties, and that is why I love my family.
We belong to a middle-class family, and we share a close bond. I never have to think twice if I wish to convey my problems to my family as I know that they will surely come up with a solution that finds my best interest. Even though both my parents are working, they make sure that they spend their time with my brother and me by playing with us and listening to our stories from school. My parents would also share their interesting moments in their work life and teach us important lessons.
When my parents are busy with their work, it is my grandparents who would help me do my homework and tell us wonderful stories about their childhood. Even when my parents scolded us for any mischief I did, my grandparents would protect me from their anger. My grandmother would prepare delicious snacks for me, and my grandfather would take me for a walk every day. My younger brother is my go-to companion whenever I have a bad day. He is my best friend, and there is nothing that we do not tell each other. As a family, we all live together under a single roof and share the little joys in life.
Moral of the Essay
Thus, I love my family essay writing enables your kid to express their love for your family and understand the role of each member. There is nothing that we would be able to achieve if we did not have a family, and we go to any extent for the welfare of our family. Family is our first and foremost priority, which is what I love my family short essay talks about. One could find love, care, support and strength in a family.
For more essays similar to I love my family essay, visit BYJU'S website. You can also find other exciting kid-friendly learning resources, such as short stories, poems, worksheets, etc., to enhance kids' learning.
FAQs
Q1
What is meant by family?
Family is formed when a group of people who are tied by blood or marriage come to live together. Usually, a family includes parents and their children. But, it could also extend to grandparents.
Q2
Are families important?
Families are very important in a person's life. It is from a family that we learn many things and develop our personality. For young children, family plays a crucial role, as it gives them a sense of belonging and identity.
Q3
How does a family support you?
Family supports each other in different ways. By having quality family time, you are conveying that we would be there for each other despite our busy work. The family communicates problems, and this ensures that the family backs you up whenever you face any difficulty. The family also shows appreciation when you accomplish something, and this would act as great support for you.