Pandit Jawaharlal Nehru Essay in English has been offered here for your ready reference. In elementary classes, children are often asked to write 10 lines on Pandit Jawaharlal Nehru. The given essay will assist kids in drafting an impressive essay on this notable personality.
Pandit Jawaharlal Nehru was a prominent figure in India. He was the first Prime Minister of Independent India. He was among the freedom fighters who fought hard for our country's independence. He served as the Prime Minister until his death in 1964 due to a heart attack.
Born to a Kashmiri Pandit family, Nehru was popularly known as Pandit Nehru. His affection for children made him lovingly called Chacha Nehru by kids. Click on the link provided below to download this essay on Pandit Jawaharlal Nehru in a printable PDF format.
The below essay on Pandit Jawaharlal Nehru will give kids an idea of how they can frame a simple essay on the given topic. The topic "10 lines on Pandit Jawaharlal Nehru" is frequently asked in primary classes. You can check out more such amazing essays for kids on other topics that are very popular in the formative years of learning of children.
Pandit Jawaharlal Nehru Essay in English for Kids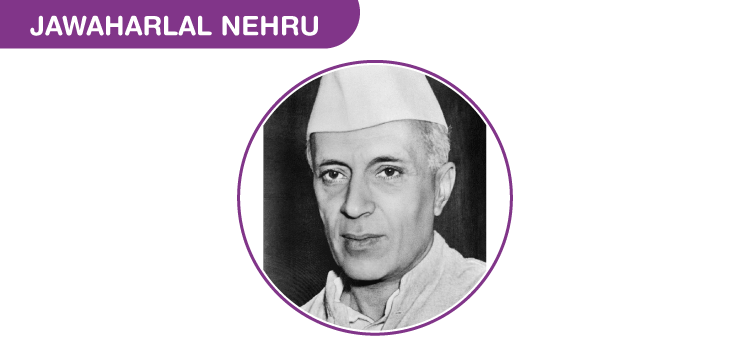 Pandit Jawaharlal Nehru was the first Prime Minister of independent India.
He was born on 14th November 1889 in Allahabad. His birthday is celebrated as Children's Day.
His father's name was Pandit Motilal Nehru and his mother's name was Swaroop Rani.
He married Kamala Kaul on 8th February 1916. They had a daughter Indira in the subsequent year.
He was known as Pandit Nehru as he belonged to the Kashmiri Pandit community. He was better known as Chacha Nehru among children.
He did his graduation from Trinity College in Cambridge. He practised law at the Inner Temple in London.
He was an Indian independence activist and fought for India's freedom along with other freedom fighters.
He wrote an autobiography "Discovery of India" during his time in prison from 1942 to 1946.
His inaugural speech as the Prime Minister of independent India "Tryst with Destiny", is highly popular among the Indian masses.
He died on 27th May 1964 due to a cardiac arrest.
A Short Essay On Pandit Jawaharlal Nehru
Pandit Jawaharlal Nehru was born on November 14, in Allahabad. His father was a barrister. Mahatma Gandhi and his principles deeply influenced him. He wanted to set India free. He studied law, and under Gandhi's shadow, he was a part of the freedom movement. When he fought for independence, he was jailed several times. Later, in 1929 he was elected as the President of the Indian National Congress. India was freed from British rule in 1947, and he was the first Prime Minister of free India. After a long service to the nation, he died on May 27, 1964.
Essay writing develops sound creativity and imagination prowess in students. It works on the overall advancement of linguistic skills. It enhances vocabulary and sentence formation understanding.
The above given Pandit Jawaharlal Nehru Essay in English is our attempt to offer a good example of writing an essay on Pandit Nehru. The language and structure of this 10 line Essay on Pandit Jawaharlal Nehru have been kept simple and easy to understand keeping in mind the thought process of children.
We have a huge collection of useful and engaging learning resources for kids – intriguing worksheets, brain-tickling general knowledge questions, interesting stories from most popular genres, poems for children, NCERT Solutions, easy trivia questions, etc. on our Kids Learning section. Explore this section and find everything you need for your child's education in one place.