Kalpana Chawla was the first Indian-born female astronaut to go to space. She was an aeronautical engineer with many patents and had won many awards. She had a master's and doctoral degree in Aerospace Engineering from the University of Texas at Arlington, USA. Kalpana Chawla was born on 17 March 1962 in Karnal, Haryana. She was an accomplished engineer and the first Indian woman to enter space. BYJU'S Kalpana Chawla essay describes her life story and inspires children.
One of Kalpana's strengths was her patience, and she always worked hard to find a way around any obstacles in science. Among her peers, Kalpana had an unprecedented interest in science. She wanted to become an astronaut, and never doubted it would be difficult. Her father allowed her to pursue higher education and also encouraged her to achieve her dream of going to space.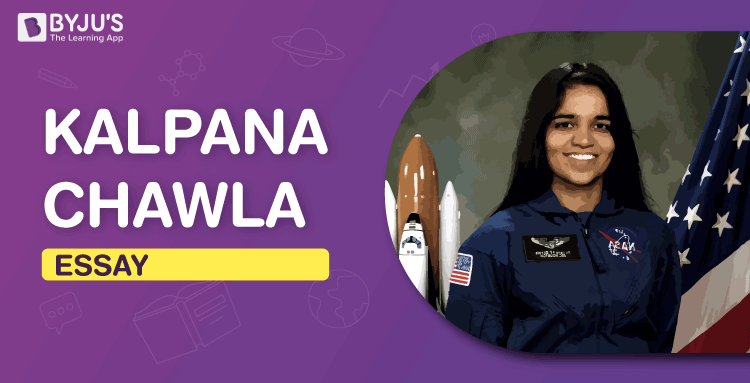 Story of Kalpana Chawla
This short essay on Kalpana Chawla will inspire the little ones to dream big. Kalpana was born in a small town in Haryana. She graduated from the local school and went to college for her bachelor's degree in Aeronautical Engineering. She was the only girl student in her class. After graduating, she went abroad for her higher studies. She completed her master's degree at the University of Texas. Then, she obtained PhD in Aerospace Engineering from the University of Colorado. From there, she joined the NASA Ames Research Center.
After completing her education, Kalpana became a space passenger. In 1994, she became a member of NASA, and in the following year, she joined the space zone. Kalpana's dream was always to travel to the moon, and as a result of her hard work and dedication, she reached such heights.
Kalpana Chawla's first space mission took off on 19 November 1994. Later, she flew on the space shuttle Columbia Flight STS-87. Out of the six crew members, she was the only woman on board. Moreover, she had completed around 375 hours and travelled over 6.5 million miles in space. They all died when their space shuttle disintegrated on their journey back to Earth. She died on 1 February 2003.
Kalpana Chawla – An Inspiration to Youth
Kalpana Chawla achieved a feat that no other Indian woman had accomplished before. Her life has been immortalised through her achievements, and she will always be an inspiration for the Indian youth.
The Kalpana Chawla essay in English tells us that everything is possible through hard work and dedication. She made it to graduation, though she was the only girl in her batch. This did not stop her from achieving her dream of being an astronaut. Her story inspires Indians as she makes them proud of where they are from.
To conclude, Kalpana Chawla is an inspiration to millions of Indian women. Her life is a story that needs to be told to everyone in the country. Her life story teaches us that there are no limits to one's aspirations. For similar essays, worksheets and poems, visit BYJU'S website.
Frequently Asked Questions
Q1
Where was Kalpana Chawla born?
Kalpana Chawla was born in Karnal district in Haryana, India.
Q2
When did Kalpana Chawla die?
Kalpana Chawla died on 1 February 2003.