Kindness essay is a reflection on the idea of kindness, which is an act of selflessness. Because kindness doesn't come with the expectation of receiving anything in return, it is a great way to show your appreciation for what you have received in life.
Kindness is always an excellent choice to make in any situation. When someone feels bad or down, the kindness shown can make a person feel more supported and loved. It is an action that anyone can do.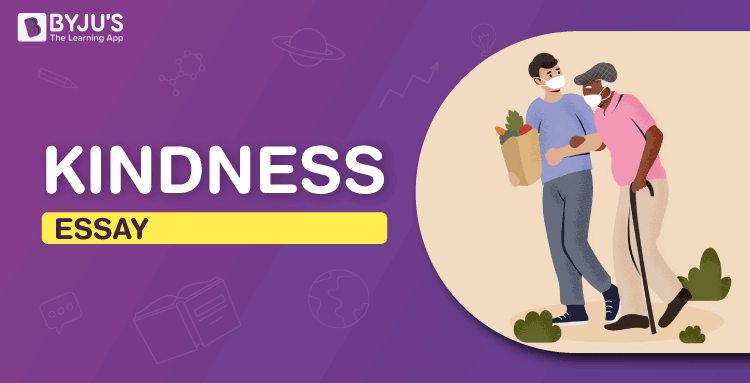 Importance of Kindness Essay
Kindness is a simple yet powerful gesture. It can positively impact someone's life, and the ripple effect is just as powerful. In the academic community, kindness is thought to be an attitude that influences achievement among people.
Kindness is a form of love and compassion and one that needs to spread throughout the world. It allows people to see the best in others, encouraging them to be their best selves. Allowing kindness to exist for those around us is beneficial for them and ourselves.
It is our responsibility as human beings to be kind to other people. We can be considerate and compassionate towards other people to live in peace and love. Kindness is a virtue, and it is one of the essential things in life. It shows other people that you care about them and takes away some of the pain and suffering that they may be feeling. It can also help heal others, and everyone should always try to think about how their actions will affect others before taking them.
Kindness is vital in every single person's life. It makes the world a better place and can make someone feel loved. With the help of kindness, you can start your good deeds to make the world a better place.
You can find more essays similar to the kindness essay on BYJU'S website. Also, explore a wide range of exciting kids' learning resources on the website.
Frequently Asked Questions
Q1
What is kindness?
Kindness is a simple gesture that can positively impact someone's life. It also helps people be compassionate and considerate towards others.
Q2
Why is kindness important?
Kindness is important because it is our responsibility to be kind to others. This helps people to live in peace and love. As a virtue, kindness is one of the essential things in life. It helps us be empathetic towards people and extend our hands to support them.