Earth has many natural resources to help people live healthier lives. Mother Earth provides us with air, water, food and shelter. Writing a mother Earth essay helps children know the importance of protecting our planet.
Earth is a planet that hosts life and is inhabited by humans and other living beings. It is made out of rocks, metals, and gases. Earth is the only planet in our solar system where life can sustain and live on. Mother Earth is the third planet from the Sun and is home to more than seven billion people.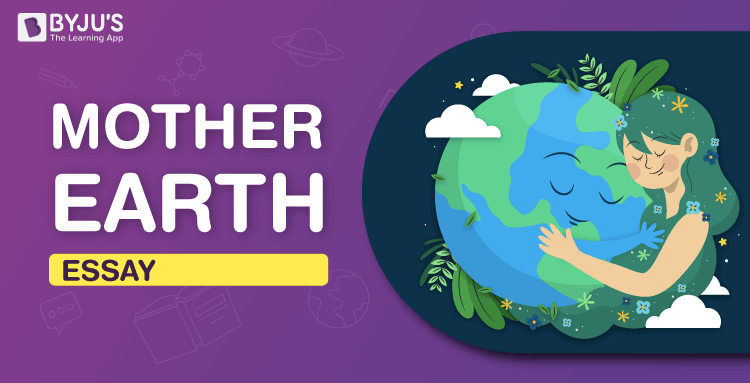 The Earth is a vital resource for life. We depend on it to grow plants, trees, and food. When we destroy the planet, we start destroying many things like the environment, our health and other things that help us survive. There are many ways to protect it, such as planting more trees, adopting a sustainable lifestyle etc.
The Earth is an amazing planet with various landscapes, ecosystems, and natural resources. It is essential to preserve them to ensure that future generations can enjoy the same unique beauty that we do now. To ensure this, it is crucial to have conservation programmes across the world. Environmental organisations have been around for decades, trying their best to protect the Earth's biodiversity and promote environmental awareness.
Save Mother Earth
There are many ways to save this planet. Reducing our plastic consumption is one huge step that doesn't require a lot of effort. By creating awareness about the consequences of our actions, we can save Mother Earth from global warming and other ecological problems.
The Earth is our home, and we should care for it. Our planet is precarious as a result of global warming, pollution, and a decreasing water level. It's time to stop being complacent and take action.
Our planet is changing soon, and we need to act quickly. The best way to save Mother Earth is by reducing our carbon footprint. By setting sustainability goals and sticking to them, we can help make a difference in the planet's health.
Another way to help save the planet is to reduce our carbon emissions. Governments around the world have already adopted various plans and laws to achieve this, but it is not easy.
Today, people are starting to realise their everyday actions that affect the Earth. They also recognise the need to start doing more responsible things to protect their future. Fortunately, there is a way for everyone to make a positive difference in the world: by adopting recycling and other eco-friendly strategies. While going green sounds difficult, it has become easier with advancements in today's technology.
Frequently Asked Questions on Mother Earth Essay
Q1
How to save mother Earth?
Saving our planet is everyone's duty. We can start doing this by segregating wet and dry waste, avoiding mining activities, reducing plastic usage and stopping deforestation.
Q2
What are the causes of pollution?
The causes of pollution are industrial emissions, usage of harmful chemicals, plastic usage, mining and agricultural activities, transportation and many more.