Here's a humble attempt from our end at providing kids with a clear idea of how they can write an impressive My Birthday Party essay. Through such an essay, kids can express what they love about their birthday parties. 
Birthdays are special to everyone, especially to kids. Children enjoy celebrating birthdays with their family and friends. In this essay, we have tried to cover all the important aspects of birthday parties that fascinate kids. 
My Birthday Party essay has been written in a very simple language so that children can grasp it well and rephrase it along with their own ideas and thoughts.  The 10 lines simple essay on my birthday party can be downloaded in beautiful PDF format through the link provided below. 
My Birthday Party Essay in English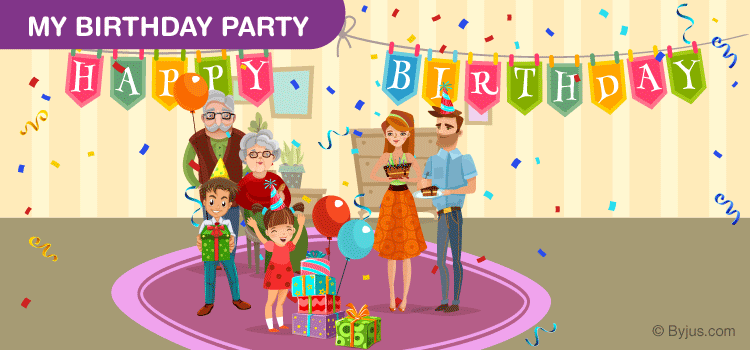 Birthdays are very special and celebrating them has become a part and parcel of our lives.
My name is Rohan and my birthday falls on the 21st of March.
Every year, I wait eagerly for my birthday.
My parents celebrate my birthday with a lot of zeal.
All my relatives, friends and neighbours are invited to my birthday party.

I get new clothes to wear to my school and for the party on my birthdays.
My father, along with my sister, decorate the house with balloons and colourful stickers.
My mother makes delicious dishes and sweets for the party. She also buys ice cream and chocolates from the nearby bakery.
On my last birthday, my father and mother gifted me a robust red-coloured bicycle. I also received many presents and best wishes from everyone who visited my birthday party.
I am fond of birthdays and I am grateful to my father and mother for celebrating my birthday with so much love and excitement every year.
We hope you enjoyed reading My Birthday Party essay in English given above. Students of primary classes can go through the essay and try to frame essays on this topic in simple words. Essays are a way to express one's thoughts and feelings about a certain topic. The above written 10 lines simple essay on My Birthday Party has also been drafted keeping in mind the thought process of a kid.
My Birthday Party essay is a wonderful topic for kids to test their writing prowess based on their understanding. We have a huge collection of such exciting essays for kids on various frequently asked essay topics.
If you wish to have access to more of such cool learning resources for your little one, like general knowledge questions, worksheets, poems, stories, trivia questions, etc., you must explore our Kids Learning section.