Teachers have a very important place in our lives. A teacher is the one who imparts knowledge to us on various academic subjects as well as teaches us good values. Here, let's explore My Favourite Teacher Essay for Kids.
Someone has rightly said, "Teachers are the ones who plant the seeds of knowledge, sprinkle them and patiently nurtures their growth to produce tomorrow's dreams."
Teachers inspire their students to study well and become ideal human beings. We have brought to you an interesting My Teacher Essay in English for kids. You can download this My Class Teacher essay in English through the link provided below.
My Favourite Teacher Essay in English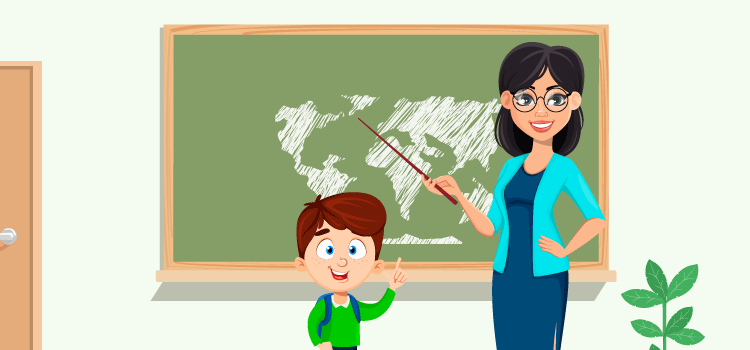 I like all my teachers but Shreya ma'am is my favourite among all.
She is our class teacher. She takes our attendance daily in the morning.
She teaches us Mathematics.
I used to dislike Mathematics earlier. But Shreya ma'am teaches it in an interesting way. Now, I love the subject.
She is the best teacher and is the favourite of most of my classmates too.
She is a very sweet and kind person.
She explains everything in an easy and fun way.
Whenever we are not able to understand anything, she patiently teaches it again and again.
She is very disciplined, punctual and sometimes strict too.
She teaches us good habits and moral values. She is an ideal teacher.
Those were the lines through which kids can form a paragraph on My Favourite Teacher. The same lines can be written under the title of My Best Teacher Essay in English as well.
Teachers build the future of millions of students. They indirectly shape the future of a community, society and country. They channelize students' curiosities and talents in the right direction. Given below is a link to "My Teacher Essay PDF" for Class 1 which you can download for free:
We have a plethora of such amazing Essays for kids which you can check out.
Looking out for more such exciting and engaging resources for your little one? Download the most admired kids learning app- Disney BYJU'S Early Learn and get everything you need to assist your kid in his/her studies.
Related Essays: