Given here is India My Motherland Essay in English, which will help kids understand how they can frame a simple my motherland paragraph. Often kids are asked to write an essay on our motherland India. This essay will assist them in framing such an essay.
India is our motherland. With a population of over 1.3 billion people, India stands as the second-most populous country in the world. You can also download this amazing my motherland paragraph in a colourful PDF format, through the link provided below.
My Motherland Essay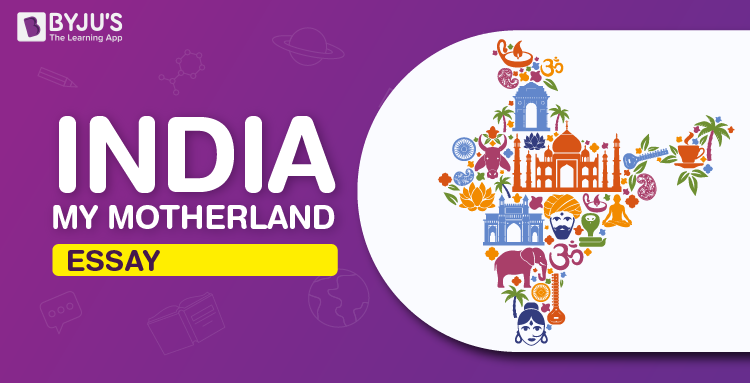 India is my motherland. India is the seventh-largest country by land area in the world. It is also the largest democracy in the world.
It has astounding geography comprising mountains, rivers, hills, oceans, plateaus, lakes, plains, islands, etc.
Our motherland India has numerous rivers such as Ganga, Brahmaputra, Indus, Narmada, Yamuna, Godavari, Kaveri, Mahanadi, etc.
With more than 1.3 billion people, India is the second-most populous country in the world.
India is a peninsula as it is surrounded by water bodies on three sides- the Indian Ocean in the south, the Bay of Bengal in the east and the Arabian Sea in the west.
India was considered to be the learning centre of the world. Two of the most famous universities of the ancient world, Nalanda and Takshshila (Taxila), were in India. Nalanda is also considered to be the first university established in the world.
Our motherland has produced some of the greatest mathematicians of all times- Aryabhatta, Brahmagupta, Srinivasa Ramanujan, Bhaskara and Shakuntala Devi among others.
Jana Gana Mana, written by Rabindranath Tagore is the national anthem and Vande Mataram, composed by Bankim Chandra Chatterjee is the national song of India.
The northernmost part of India is mostly covered with mountains. The famous Himalayas are the origins of various rivers of India. The Himalayan range also saves our country from cool and withered winds of Central Asia.
According to the GlobalFirepower report 2020, Indian Armed Forces is ranked the fourth most powerful military. The Indian Armed Forces comprise the Indian Army, Indian Navy and Indian Air Force.
The given topic India My Motherland essay in English is a frequently asked essay topic in the primary classes. You can also refer to other common topics on essays for children.
Essay writing improves the linguistic prowess of students of all ages. It motivates them to write down their thoughts and feelings about that topic. It is a mental exercise that charges up their brain and bestows them with higher levels of creativity in the long run.
When kids write an essay on our motherland India, they get to open up their views and thoughts about India. This offers them a chance to explore their creativity, writing prowess and frame an impressive my motherland paragraph.
We also have a lot of other learning resources that you might be looking out for. Intriguing worksheets, brain-tickling general knowledge questions, interesting stories, poems for elementary school children, NCERT solutions, easy trivia questions on various topics, etc. are available on our kids learning section. Explore this section now!
Check out more Essays
Other Popular Contents !
Browse more Categories!