To describe the bond between parents and kids, we are here to offer you 'My Parents Essay' for kids. Parents are the biggest gifts to us. Humans need care, especially when they are infants. This care and affection is showered by parents. The role of parents in our lives is not something that can be described entirely. There's a saying that they are human versions of God to their children.
This essay on My Parents will help kids understand how they can write a simple yet impressive essay on the topic at hand. You can also download this essay in a PDF format for free, through the link provided below.
My Parents Essay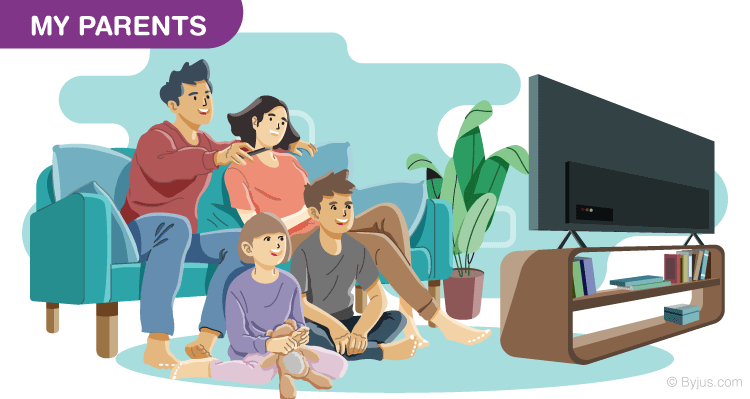 Parents are the most beautiful creations of God. They are the ones who bring us to the world. They play an enormous role in our overall development – physical, mental, emotional, etc. They are responsible for inculcating good habits and etiquette in us. When we are born, we know nothing. Parents are our first teachers. They teach us to speak, to walk, to eat and to learn. They help us distinguish between the good and bad.
I am very close to my parents. They love me so much. They try to give me whatever I ask for. When I get good grades and appreciation, they feel proud. My parents help me with my studies and take care of all the things that I need to study and play. They cook the tastiest food for me. They play with me and take me to fairs. My parents buy me gifts and new clothes on birthdays and other occasions.
I share everything with them. They help me resolve my problems and teach me to be optimistic even in the worst of situations. I love them a lot and pray for their well being and long life.
We hope that the above-given essay on my parents will prove to be helpful for kids. Parents are the first teachers of a kid. They teach basic etiquette and good manners. They nurture us with their love and affection. They work hard so that we can get educated in good schools and colleges. They sacrifice their wishes to fulfil ours.
We inherit a lot of traits from our parents. Their love is selfless as they don't expect anything from their children. All they want is for them to have a happy and prosperous life. They are the ones who provide kids with emotional, financial and physical support in all walks of life. They keep us safe from the vices of society. Our parents are the ones who will always wish the best for us.
Essay writing helps kids in gaining confidence and getting a grip on the language. It improves sentence building skills. The activity of writing essays is promoted from the early years of learning as it lets the students ponder over a topic and then pen down those thoughts. This builds creative thinking and writing skills.
So, that was 'My Parents Essay' for young children. The language of the essays for primary classes is kept very simple, so that kids find them easy to understand and replicate. There are a lot of such interesting essays for kids that you might want to have a look at. Just click on the linked article and find the most relevant and enticing essays for Class 3 kids.
We also have a plethora of learning resources – worksheets, poems, stories, general knowledge questions, easy trivia questions, etc. on our kids learning section. These brilliant learning materials are crafted in order to give kids the best learning experience.