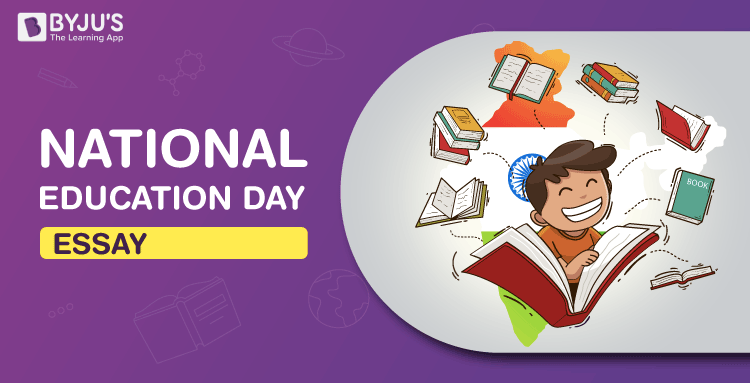 We all know that education is everyone's birthright, but not many of us are aware of how the education system came to be as it is today. Maulana Abul Kalam Azad is the man who instituted the education system in India, and it is to commemorate his various contributions to the educational sector that we celebrate his birthday as National Education Day.
Maulana Azad was India's first education minister, and his efforts to make education accessible to all has gone a long way. In this national education day essay in English, we will see why we celebrate national education day on his birth anniversary, i.e. on 11th November and what makes him a revolutionary in the educational space.
Significance of National Education Day
After attaining independence in 1947, India was moving towards a path of change and revolution in all sectors. Having recognised that an educated society is the foundation of a nation, the focus was on developing an efficient educational system. The celebration of national education day gained significance the moment Maulana Abul came into power as the education minister.
Maulana Abul was a scholar and freedom fighter. Due to his far vision about the development of the country, he strived to eradicate illiteracy by supporting primary education and girls' education. He also advocated the right to free education for children up to 14 years. His most notable achievement in the educational space is the establishment of the first IIT in 1951 and the University Grants Commission in 1953. He knew that such establishments would pave the way for educational excellence.
As an intellectual, Maulana Azad did everything in his power to raise the standards of education, and it is to pay respect to his contributions that the Ministry of Human Resource Development decided to celebrate his birthday as National Education Day. Thus, the importance of education for all is highlighted in this national education day essay in English.
Celebration of National Education Day
National Education Day is celebrated on 11th November every year. On this day, schools across the country organise many activities to commemorate the great leader, Maulana Azad. Schools conduct innovative programs like seminars and workshops that will make the students understand the importance of education. The educational institutions can also make this day memorable by carrying out elocution competitions, essay writing competitions or poster making competitions. You can prepare your kids for these competitions through an essay on national education day.
The main aim of celebrating national education day is to make people aware of the selfless contributions of Maulana Azad to the educational sector and thereby inspire the present generation to spread the virtues of literacy around. For more exciting content for kids learning, visit our website.
Frequently Asked Questions on National Education Day Essay
How can we celebrate National Education Day?
We can celebrate the day either by participating in various competitions held at the school or creating awareness programs to convey the importance of education. We can also join any NGO that works towards educating students, and we will be marking our contribution if we can help students in their educational pursuits.
Who was Maulana Abul Kalam Azad?
Maulana Abul Kalam Azad was a revolutionary and freedom fighter during the British Raj. He was gifted with the power of knowledge, which he used to transform the educational sector of India after the independence of the country. As the first education minister of India, Maulana Azad worked tirelessly to build the nation through education.