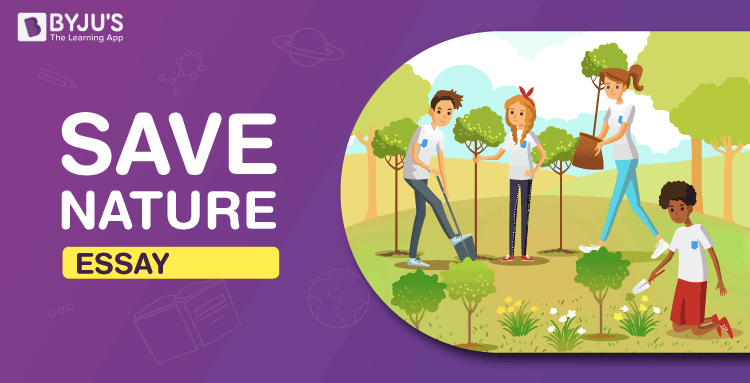 Introduction
We are always happy to get gifts from others, as they make us feel special and valued. Nature is such a gift given to us that it must be treated equally like any other gift. We might think that since nature and its resources are available for free, we can utilise them in whichever way we want. This approach towards nature is not good, and this is what is discussed in this save our nature essay.
The minute we step out of our homes, we are entering the space of nature, and everything we see around us forms a part of it. The plants, trees, flowers, sky, soil, water, sun, insects, and wind all fall under nature. Therefore, we must keep our nature as beautiful as it is.
Importance of Saving Nature
Even though nature has a significant role in supporting our lives, each component has a specific role in maintaining the balance of nature. While we get food to eat, air to breathe and water to drink from nature, we also enjoy the natural beauty and sounds as they lift our moods. Nature provides us with many resources, and we return its kindness by overexploiting and harming nature. Thus, as people living on Earth, we need to be conscious of our actions on surroundings that disrupt its natural flow.
Human activities are the main villain that harms nature. Earlier, it was not evident the dangerous effects of human exploitation on nature. When we think that we have only cut down a single tree, which might not damage nature, remember that there would be hundreds of others who think like you. So, one tree becomes hundreds, thousands and millions. At this pace, nature will soon exhaust its resources, and we will be suffering from various natural disasters and diseases. To put it simply, our mere existence would be threatened. This is why we need to preserve nature. In this how to save nature essay, we explore a few ways to coexist with nature.
Ways to Save Nature
We must be mindful of the fact that though nature has infinite resources, they will soon get depleted if we use them carelessly. As people started moving to cities, this led to the clearance of land and deforestation. The impact is environmental threats, such as green gas emissions, global warming, extinction of natural flora and fauna, etc. And the price we will have to pay will be huge.
To save ourselves from natural calamities and protect nature, let us move towards sustainable practices. By using eco-friendly products and discarding plastic and other non-degradable materials, we are doing a huge favour to our nature. We can also join our hands to reduce pollution by segregating wastes, using public transport and avoiding the use of pesticides. This save our nature essay from BYJU'S will be helpful for children to understand that if we take care of these trivial things, we can ensure the long life of nature.
You can explore more essays similar to the save nature essay on BYJU'S website to enhance kids' learning experience. Also, access a wide range of kid-friendly learning resources on the website.
FAQs
Q1
What is meant by nature?
The things that we see around us, which are not made by humans, constitute nature. It includes all living and nonliving things like air, water, sun, wind, animals, trees, mountains, oceans, etc.
Q2
What are some of the ways to save nature?
We can save nature if we stop over utilising the resources given to us by nature. We must preserve our environment as it is and not loot its materials. Moreover, we must take an environment-friendly approach, which must be reflected in our actions.