"Keep reading. It's one of the most marvellous adventures that anyone can have." This famous quote by Lloyd Alexander sums up the importance of reading and how it can transport kids to a different world. And, is there any better way to introduce kids to books other than through the school library? Children always have a fascination for new things, and seeing the school library for the first time with large halls and shelves stocked with piles of books will surely amaze them.
The best way to gain knowledge is by reading books, and libraries are built in schools for the sole purpose of entertaining and educating children. This school library essay in English is for young kids who wish to know more about a library. Once they understand its prominence, they will soon discover the habit of reading and make their own school library essay.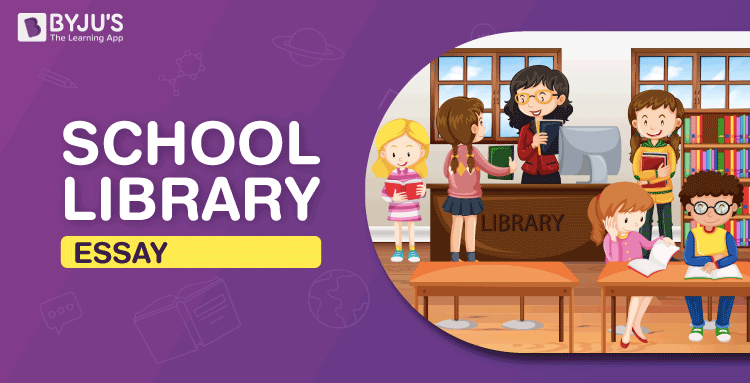 Experience with My School Library
It was during a free hour that our teacher took us to the school library. Climbing up the stairs, we reached a huge doorway, behind which were the racks of books and a large study hall. The structure of the library interested me, and we were soon given different varieties of picture storybooks by the librarian. He asked us to read the book silently.
There was an unusual silence in the library as everyone was immersed in their books, and later, I became aware that nobody was allowed to talk or make noise in the library as people came here to read books, periodicals or academic papers peacefully. After my first visit, I started going frequently to the library, and I noticed that there were many types of books arranged on separate shelves. It was easy for me to find storybooks in different sections for young kids.
I was also excited to learn that I could carry these books to my home for a certain period and return them after my reading. By noting down my name and class, the librarian lent me 2 books to take home and read. He also asked me to return them within 2 weeks.
I was glad that our teacher took us to the library on that day. I was able to cultivate a new habit of reading because of my school library. Since then, I have visited the school library daily to read and get general information.
Moral of the Essay
The school library is an invaluable resource in a student's life. Even though the libraries have different structures, which might change with time, their primary purpose is to bring together an array of books for all age groups. Utilising the school library wisely is expected of any student, and we can instil the habit of reading in them as they begin their school journey. The above school library essay in English will give children a view of how to write a short essay on the topic.
FAQs
Q1
What is the role of a school library in a student's life?
A school library is the first place where a student gets to see a huge collection of books. Due to their curiosity to know what each book talks about, they slowly start the habit of reading. Along with entertaining them, these books contain lots of useful information, and by reading them, kids develop their knowledge.
Q2
How to utilise the facility of a school library?
School libraries can be used by students and teachers whenever they have free time. The whole class can visit the library at least once every week. To utilise the opportunity well, teachers and students can plan small activities like forming a reading club or conducting essay writing or story writing competitions so that students will refer to books in the library.
Q3
What type of books do we get in a library?
A library has a huge resource of knowledge, and you can get any kind of books like literary, academic, fiction, non-fiction, encyclopaedia, history, politics, children's books, etc.