If there is anything that we would miss later, it would be our good old student life. One cannot deny that student life was one of the most glorious periods. Usually, student life is filled with studies, homework and exams. But even then, it is to this phase that we long to return to. Ever wondered why? We get lots of knowledge and information about different things in the world as well as grow physically, emotionally and socially.
Each of us remembers our student life differently. This student life essay in English will be useful for your kids to understand the importance of student life. It will help them to identify what they like the most about the school through this essay on student life.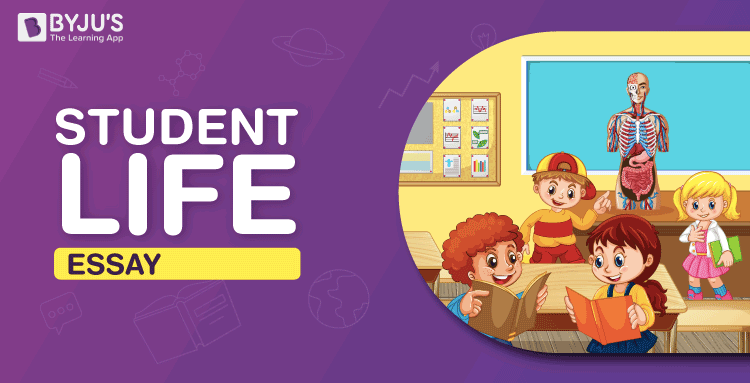 Experience of Student Life
I recall the day when I wore my uniform and took my new bag and bottle to my first day at school. A few days earlier, there was great excitement in the family as we bought books and a lunchbox to carry to my school. All these things were new to me, and unaware of what the life of a student would be like, I, too, joined the excitement of my parents.
After I began going to school for a few days, I realised that student life is packed with many fun activities and learning, which I enjoyed thoroughly. It was during my student life that I made many friends in class. I was always happy to share my snacks with them, and I got to taste various types of delicacies and savouries as they gave a portion of their food to me. Besides, we played hide and seek during the intervals, coloured the books and learned the alphabet together.
I also liked going for one-day picnics and tours, and this part of student life was where I got to have maximum joy. While my student life was packed with endless activities and games, there were also stages of learning where I was able to grow as a person. I understood important virtues like discipline, punctuality, hard work and integrity as I studied and tried to score good marks. It is our student life that shapes our dreams where we can plan and secure our future.
I have often heard my parents saying that they miss their student life, and I guess it is because it is the only time when we can be innocent and carefree and take life as it is. I know that I wouldn't get this student life, nor will I be able to go back to being a student once I become independent and start living my life.
Moral of the Essay
Student life is a crucial aspect as it determines how we would grow up as individuals. This essay on student life will help you understand its many benefits. We must also consider ourselves lucky for acquiring education as many do not know what education or student life is. So, recount the incidents of your student life through this student life essay in English.
You can find more essays similar to the student life essay on BYJU'S website. Also, explore other kid-friendly learning resources on our website.
FAQs
Q1
What do you mean by student life?
If you are a student who either goes to a school or college, then the daily activities you indulge in as a student constitutes your student life. You will be spending time with your teachers and friends by learning and playing.
Q2
Is student life important?
We cannot overlook the importance of student life as it is a period of new learning. We begin to understand many things, and if we have a balanced student life, then we will be able to achieve success in life.
Q3
Is it difficult to lead a student life?
Student life is a pleasant experience where we gather knowledge and make friends. But it is also a phase where we face reality and experience difficult situations. Nevertheless, student life makes you braver, responsible and emotionally well-receptive.