Mizoram Board of School Education has released the exam date for HSSLC class 12. The theory exams for the Higher Secondary School Leaving Certificate Examination for Arts, Science and Commerce stream will start from 1st March, 2022 and continue till 25th March, 2022. Here we have provided the date sheet for all stream students. Scroll on to know the Mizoram Board Class 12 Exam Dates.
Mizoram Board Class 12 Date Sheet 2021-22
Find below the detailed MBSE Class 12 HSSLC time-table 2021-22: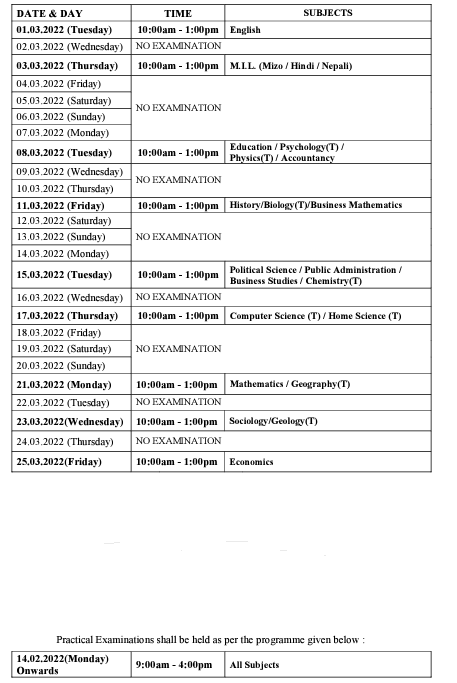 Mizoram Board Class 12 Date Sheet for the Previous Years
The timing for theory papers are from 10 AM to 1 PM while for practical the timing is 9 AM to 4 PM. Students can also download the official date sheet released by the board from the link provided below.
After downloading the date sheet takes its print out and paste it in the study room.
Date
Day
Subjects
05.03.2019
Tuesday
English
08.03.2019
Friday
M.I.L (Mizo/Hindi/Bengal/Nepali)
12.03.2019
Tuesday
Education/Psychology/ Physics/ Accountancy
14.03.2019
Thursday
History
18.03.2019
Monday
Political Science/Public Administration Business Studies/Chemistry
20.03.2019
Wednesday
Geography
22.03.2019
Friday
Economics/Biology
25.03.2019
Monday
Mathematics/Business Mathematics
26.03.2019
Tuesday
Sociology
28.03.2019
Thursday
Home Science
29.03.2019
Friday
Computer Science/Geology
Mizoram Board Class 12 Practical Exam Date Sheet
18.02.2019
Monday
Physics/Chemistry/Biology/Geology
19.02.2019
Tuesday
Geography/Psychology/Home Science/Computer Science
We hope students have found this information on "Mizoram Board Class 12 Date Sheet 2019" useful. Keep learning and stay tuned for further updates on Mizoram Board. Download BYJU'S App and subscribe to YouTube Channel to access interactive Maths and Science Videos.