Social Science is an equally important subject for Class 9 students of MP Board and the best way for them to master the subject, is for them to first understand the MP Board Class 9 Social Science Syllabus. Class 9 sets the foundation for the classes ahead. A student who is thorough with the Class 9 subjects will find it easier to score good marks in the higher class exams. MP Board Class 9 syllabus of Social Science covers topics such as Man and Environment, Conservation of Environment, Drainage System, etc. The syllabus, along with the topics, also provides marks distribution for each chapter. Students should go through their MP board Class 9 syllabus of Social Science before they start their respective academic session. It will prepare them beforehand about the topics they will be taught in their respective classrooms.
Find here the chapter details in Hindi, from the latest syllabus: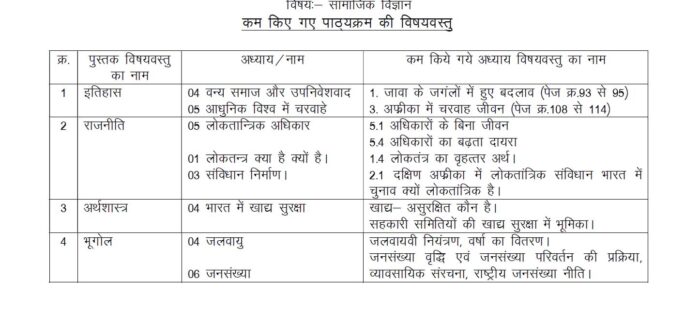 By clicking the link given above students can download the Social science syllabus 2021-2022 of MP Board Class 9 in PDF format.
Meanwhile, find the unit wise marks distribution from the previous, 2020-21 syllabus.
Unit wise Marks Distribution for 2020-21
| | | | |
| --- | --- | --- | --- |
| Sl No | Unit | Marks | Periods |
| 1 | India and the Contemporary World – I | 20 | 60 |
| 2 | Contemporary India – I | 20 | 55 |
| 3 | Democratic Politics – I | 20 | 50 |
| 4 | Economics | 20 | 50 |
| | Total | 80 | 215 |