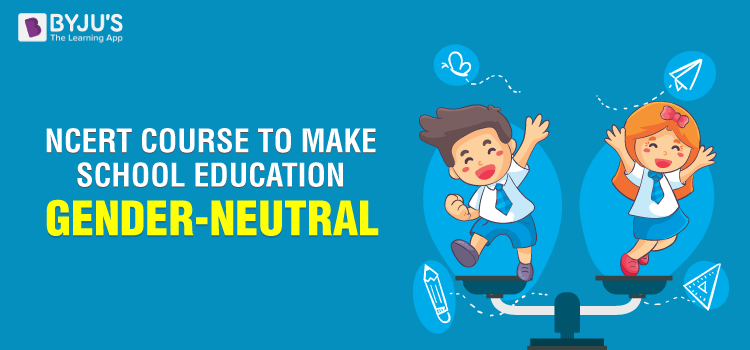 The National Council of Educational Research and Training (NCERT) is intending to launch an online course to make the academicians aware of the issues and concerns related to different gender in education. This course is being launched with an aim to eliminate the gender stereotyping from the school textbooks. The course will deal with the problems associated with the depiction of conventional gender roles in the school text-books as well.
In order to make the NCERT textbooks more integrated and authentic, the council conducts several audits or reviews of them, throughout the year, said a senior member from the NCERT. He added that a person should not be defined or represented in any specific manner or referred to in a certain way because of their gender; hence, the course has been added. Patriarchy influences our lives in ways we do not even comprehend, and with the course, the teachers would be trained to be susceptible to such issues, he concluded.
Every individual is obliged to be conscious of the subtleties regarding the gender-related concerns and complexities. Inured academicians would strive to ensure that gender stereotypes are no longer prevailing in the minds of young kids, refraining it from being inherited to the future generation. To build a better tomorrow, the NCERT will make sure that the course is not just limited to teachers or academicians; instead, it would be available to all once it is released.
The course is bound to be available from this financial year and is expected to be of a duration of 90 days. Assignments, online lectures and activities are included in the syllabus or curriculum of this course. The candidates will also get certified on the successful completion of the course.
A five-day training programme will also be conducted by the NCERT with 20 sessions to train the academicians or teachers. Perspectives on gender and society, gender and schooling processes, gender and women's empowerment are the three volumes included in the curriculum of the workshop. Just like the NCERT Syllabus of any other classes, the syllabus or curricluum of this course begins with the fundamentals, here the basic difference between sex and gender. Though the course is also expected to be of the same wavelength, the curriculum is yet to be finalised. The officials said that the online course would provide the flexibility to the candidates in terms of when and where to take the exam.