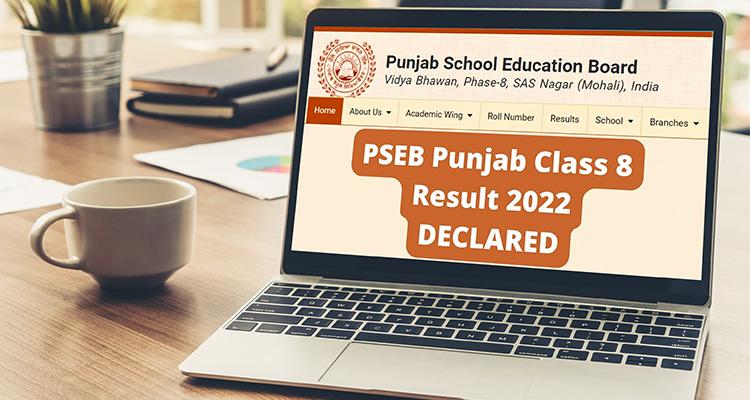 Punjab School Education Board, PSEB, has announced the result of class 8 board today on June 3 2022 in a record time of 23 days of concluding the exams . The results were declared in a press briefing in which the officials also announced that the result of PSEB class 10 and 12 will be declared by the end of this month.
As per the result the overall percentage of students who have passed in an exam for which 3,07,276 students enrolled this year is 98.25%. Candidates must note that the marksheet which is accessible on the main website is provisional. The passing percentage was 33% marks in each exam.
In the list of students passing with flying colours, 311 students have entered the merit list with 90+ percentile. Manprit Singh from Barnala has topped in the state with 600/600 marks. In the list of toppers, Himani Sethi from Hoshiarpur has secured the 2nd position and Karmanpreet Kaur from Amritsar has secured the 3rd rank. Both the candidates have secured 596 marks out of 600, but Himani has been given the 2nd position because of the rule that age will be counted as criteria in the tie-breaking formula.
Although girls have outshined boys with a 99.9% overall passing percentage, boys have given a close call with 99.86%. Around 9 students have topped with 100% marks as per the result announced. The record time in which the result has been announced also included the practical exams conducted at the educational institutions.
A total of 3,06,894 students cleared the examinations. The 697 unsuccessful learners who could not get the minimum 33% marks in each exam will be allowed in the next class for 2 month, during these 2 months these students will get time to revise the subjects which they have not cleared, and will be given an opportunity to give the special exams.
Coming to categorising the districts in the list of high scorers, Pathankot, Katharpur and Hoshiarpur have topped the list, whereas Sangur has emerged as lowest in the list. The big shots of Punjab, Ludhiana, Amritsar etc, have not scored enough to be included in toppers list.