PRESS RELEASE
BYJU'S and Google partner to offer 'Learning Solution' for schools
The simplicity, flexibility, and security of Google Workspace for Education and BYJU'S unmatched content pedagogy come together on the 'Vidyartha' platform to aid effective learning at school
Automated, cloud-based management platform to offer seamless education delivery
Emerging technologies in the classroom to enable innovative learning experiences.
Bengaluru, June 2, 2021: BYJU'S, the world's leading education technology company, with 95 million registered students on its flagship learning app, today announced a partnership with Google to aid continuity of online learning for both teachers and students. This integration of Google Workspace for Education with BYJU'S will offer a collaborative and personalised digital platform for classroom organisation, available for free to participating educational institutions.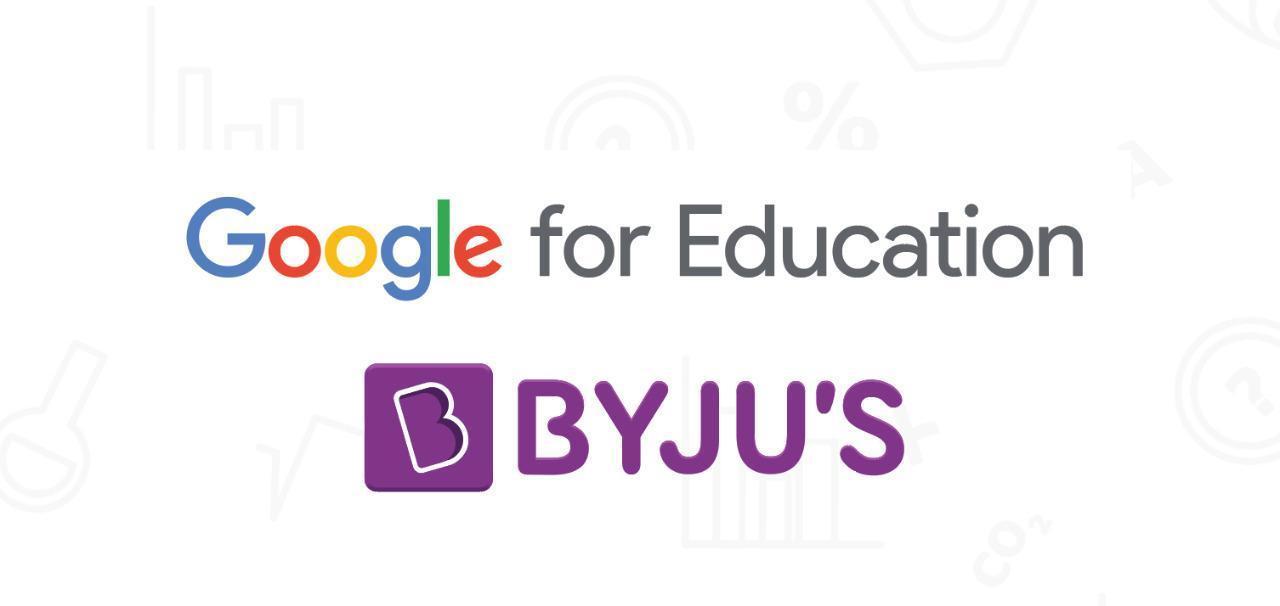 With a commitment to digital education, Google Workspace for Education will combine BYJU'S' unparalleled pedagogy to empower educators in their journey towards digital transformation. Built on the Vidyartha platform, this partnership will provide direct access to BYJU'S' extensive math and science pedagogy and visually-rich learning solutions, including chapter-wise slides, readymade assignments, data banks, summary docs, handouts, tests, and more.
Mrinal Mohit, Chief Operating Officer, BYJU'S, "The significant rise and acceptance of online learning in the last one year has led to the swift digitisation of our education system. Teachers and students had to adapt to online learning overnight and are now rapidly discovering its potential. Through our partnership with Google, we are aiming to aid this digital revolution and equip our educators with the necessary technological and learning assets to ensure continuity of education. We are truly excited to collaborate with Google and believe that our partnership will be a key facilitator in the new wave of re-defining the future of learning."
Designed to enable seamless and convenient learning, the platform also features Google Classroom, offering simplicity and flexibility, along with a security experience for all educators. Besides the Google Workspace for Education features that include Docs, Sheets, Slides, and Forms, teachers will get access to Google Meet – Google's premium video conferencing solution – where up to 100 people can participate using Google Workspace for Education Fundamentals, for free.
Bani Dhawan, Head of Education – South Asia, Google said, "This past year, we at Google have been especially vested in using our technology and platforms to help extend quality learning experiences to students everywhere. We are thrilled to partner with Byju's in reaching out to schools across the country to bring rich and interactive English-based learning solutions that complement school curriculum, and look forward to working to make this offering available in Indian languages later. With the rapid move to online learning and teaching, educators today are increasingly looking for more meaningful ways to bring their lessons to life, and we hope this offering makes online classes that much more engaging and fulfilling."
This solution aims at empowering educators to provide a comprehensive solution for their students including messaging, test conduction, daily classes and well-made pedagogical content from BYJU'S. This digital ecosystem will empower educators to create engaging and personalized education that is well integrated with curriculum, based on Google's world-class security.
Every school that signs up on the platform will get official email IDs for all faculty, students and admin staff, powered by Google Workspace for Education. To aid effective learning at school, this learning solution will facilitate end-to-end Classroom management and will help organise, access, and track classroom learning.
Schools interested in knowing more about this learning solution can fill in the details below.
Link: vidyartha.com or https://vidyartha.com/signup
Video: https://www.youtube.com/watch?v=C4BuMf4aR8c
About BYJU'S:
BYJU'S is world's leading ed-tech company and the creator of India's most loved school learning app which offers highly adaptive, engaging and effective learning programs for students in LKG, UKG, classes 1 -12 (K-12) and competitive exams like JEE, NEET and IAS.
BYJU'S launched its flagship product, BYJU'S – The Learning App, for classes 4-12 in 2015. Today, the app has over 95 million registered students and 6.5 million annual paid subscriptions. With an average time of 71 minutes being spent by a student on the app every day from 1700+ cities, the app is creating a whole new way of learning through visual lessons. The Disney BYJU'S Early Learn App was launched in June 2019, a special offering from BYJU'S for students in classes 1-3 featuring Disney's timeliness characters. In early 2019, BYJU'S acquired Osmo, a Palo Alto based maker of educational games to transform the whole offline to online learning experience. BYJU'S also acquired White Hat Jr in 2020, a Mumbai-based programming start-up focused on empowering children with coding skills.
BYJU'S has been backed by strong and prominent investors like Chan-Zuckerberg Initiative, Naspers, CPPIB, General Atlantic, Tencent, Sequoia Capital, Sofina, Verlinvest, IFC, Aarin Capital, TimesInternet, Lightspeed ventures, Tiger Global, Owl Ventures & Qatar Investment Authority.
Delivering a world-class learning experience, programs from BYJU'S are making learning contextual and visual. The apps have been designed to adapt to the unique learning style of every student, as per the pace, size and style of learning. BYJU'S is paving the way for new-age, geography-agnostic learning tools that sit at the cross section of mobile, interactive content and personalised learning methodologies. BYJU'S is also the official sponsor of the Indian Cricket Team.
About Google:
Google's mission is to organize the world's information and make it universally accessible and useful. Through products and platforms like Search, Maps, Gmail, Android, Google Play, Chrome and YouTube, Google plays a meaningful role in the daily lives of billions of people and has become one of the most widely known companies in the world. Google is a subsidiary of Alphabet Inc.
For Media Queries, please contact
Ms. Sanghamitra Bhargov, +91 99867 86811
Ms. Kavitha Shenoy, +91 9886571641