Surface chemistry is the study of the physical and chemical phenomena that occur at the boundary (interface) between two bulk phases.
A pure compound or a solution can be used as the bulk phase.
The bulk phases can be solid-liquid, solid-gas, solid-vacuum, liquid-gas, and so on.
Some applications of surface chemistry are known as surface engineering. There are various phenomena taking place on the surface of substances and some of them are:
Adsorption
Heterogeneous Catalysis
Corrosion
Crystallization
In a wider perspective, surface chemistry deals with the interaction of surfaces of one system with that of the other system. Some phenomena work on this principle such as:
Catalysis
Colloid Formation
Electrode Reactions
Chromatography
Download Class 12 Chemistry Worksheet on Chapter 5 Surface Chemistry Set 4 PDF
👇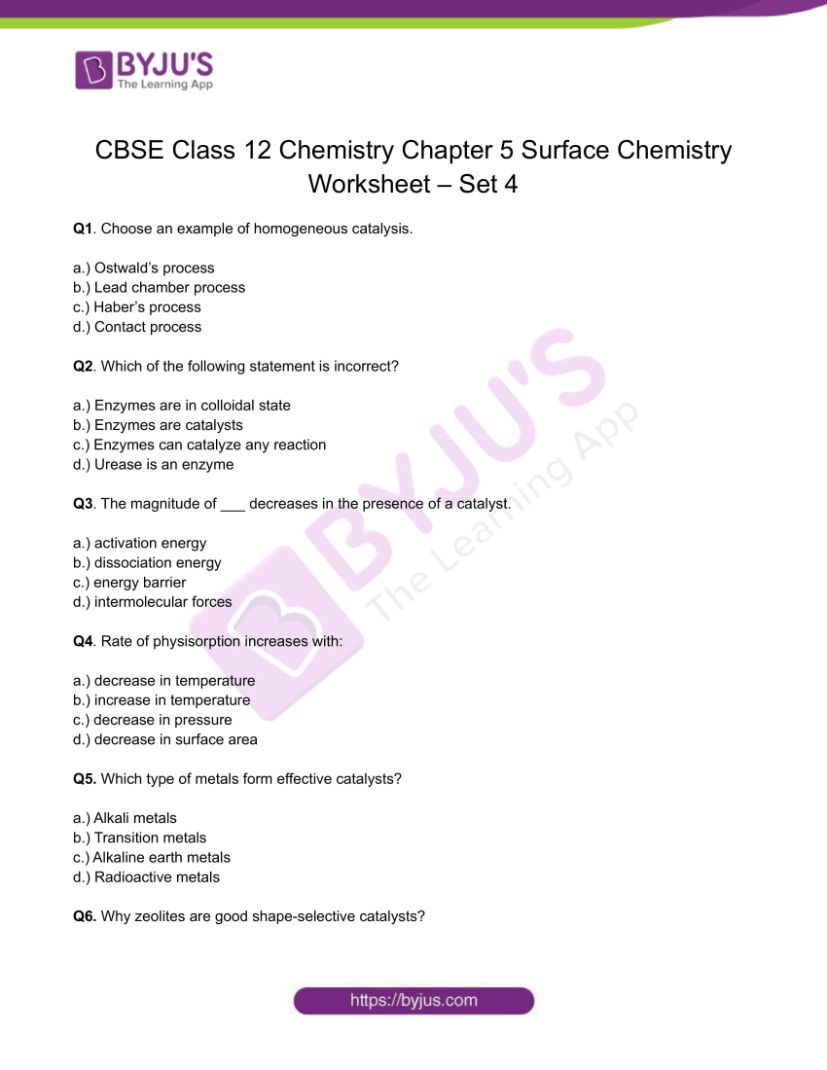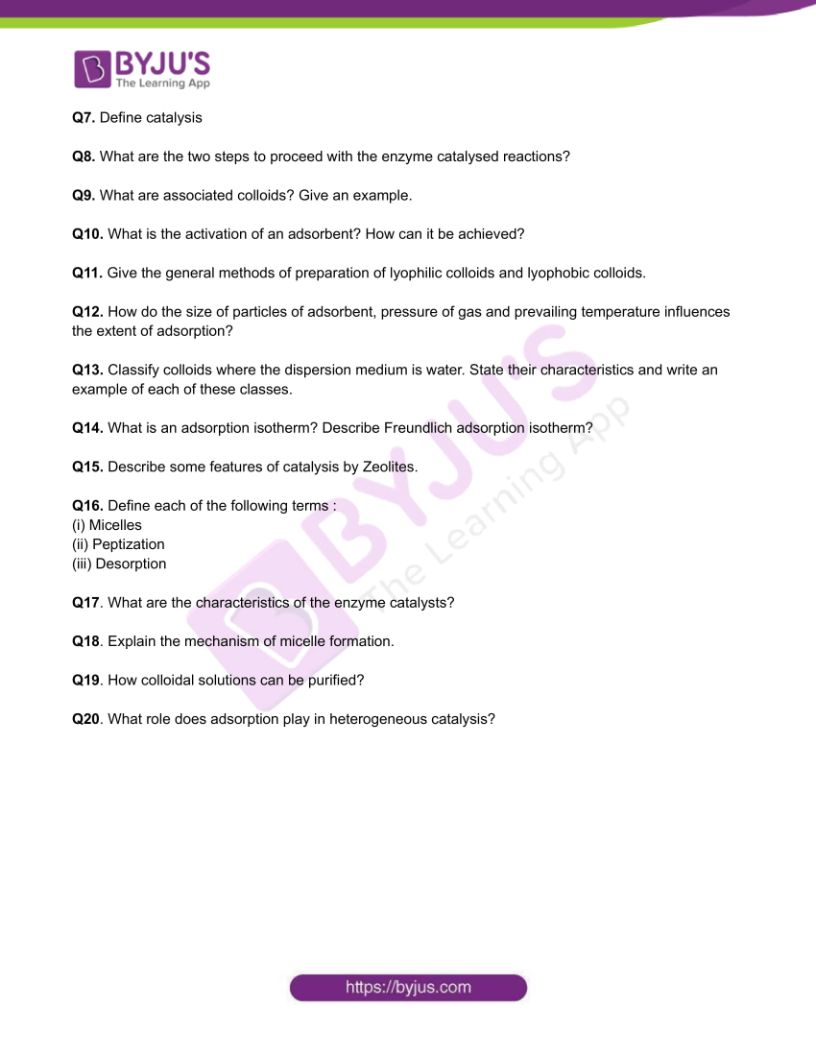 CBSE Class 12 Chemistry Chapter 5 Surface Chemistry Worksheet – Set 4
Q1. Choose an example of homogeneous catalysis.
a.) Ostwald's process
b.) Lead chamber process
c.) Haber's process
d.) Contact process
Q2. Which of the following statement is incorrect?
a.) Enzymes are in colloidal state
b.) Enzymes are catalysts
c.) Enzymes can catalyze any reaction
d.) Urease is an enzyme
Q3. The magnitude of ___ decreases in the presence of a catalyst.
a.) activation energy
b.) dissociation energy
c.) energy barrier
d.) intermolecular forces
Q4. Rate of physisorption increases with:
a.) decrease in temperature
b.) increase in temperature
c.) decrease in pressure
d.) decrease in surface area
Q5. Which type of metals form effective catalysts?
a.) Alkali metals
b.) Transition metals
c.) Alkaline earth metals
d.) Radioactive metals
Q6. Why zeolites are good shape-selective catalysts?
Q7. Define catalysis
Q8. What are the two steps to proceed with the enzyme catalysed reactions?
Q9. What are associated colloids? Give an example.
Q10. What is the activation of an adsorbent? How can it be achieved?
Q11. Give the general methods of preparation of lyophilic colloids and lyophobic colloids.
Q12. How do the size of particles of adsorbent, pressure of gas and prevailing temperature influences the extent of adsorption?
Q13. Classify colloids where the dispersion medium is water. State their characteristics and write an example of each of these classes.
Q14. What is an adsorption isotherm? Describe Freundlich adsorption isotherm?
Q15. Describe some features of catalysis by Zeolites.
Q16. Define each of the following terms :
(i) Micelles
(ii) Peptization
(iii) Desorption
Q17. What are the characteristics of the enzyme catalysts?
Q18. Explain the mechanism of micelle formation.
Q19. How colloidal solutions can be purified?
Q20. What role does adsorption play in heterogeneous catalysis?
Download the PDF to access answers to the Chemistry Worksheet for Class 12 Chemistry Chapter 5 Surface Chemistry Set – 4.
Download PDF
Read Also: