The study of the physical and chemical phenomena that occur at the boundary (interface) between two bulk phases is known as surface chemistry.
The bulk phase can be a pure compound or a solution.
Solid-liquid, solid-gas, solid-vacuum, liquid-gas, and other bulk phases are possible.
Surface engineering refers to some surface chemistry applications. Various phenomena occur on the surface of substances, some of which are as follows:
Adsorption
Heterogeneous Catalysis
Corrosion
Crystallization
Surface chemistry, in a broad sense, is concerned with the interaction of one system's surfaces with those of another. Some phenomena, for example, work on this principle:
Catalysis
Formation of Colloid
Reactions of Electrodes
Chromatography
Download Class 12 Chemistry Worksheet on Chapter 5 Surface Chemistry Set 5 PDF
👇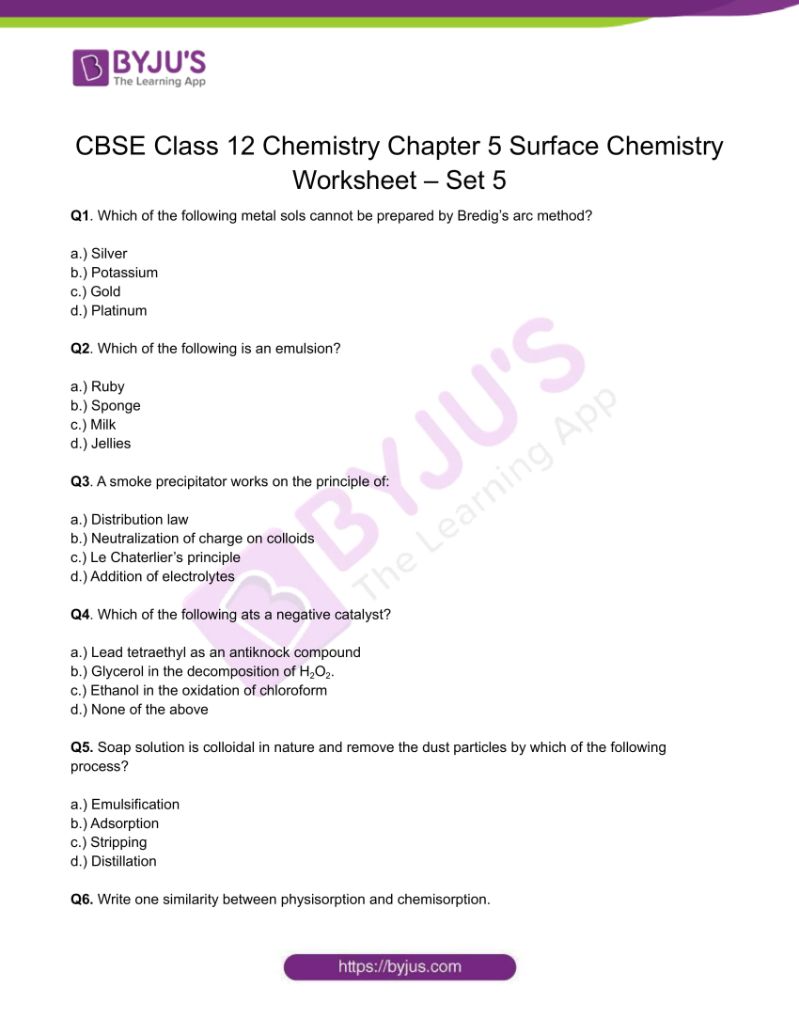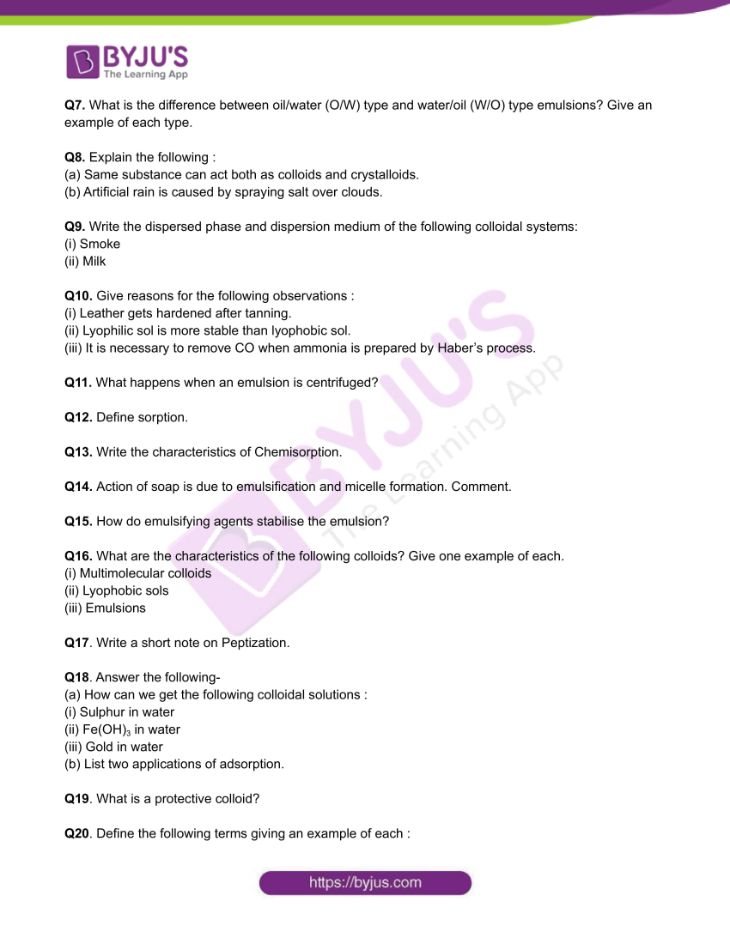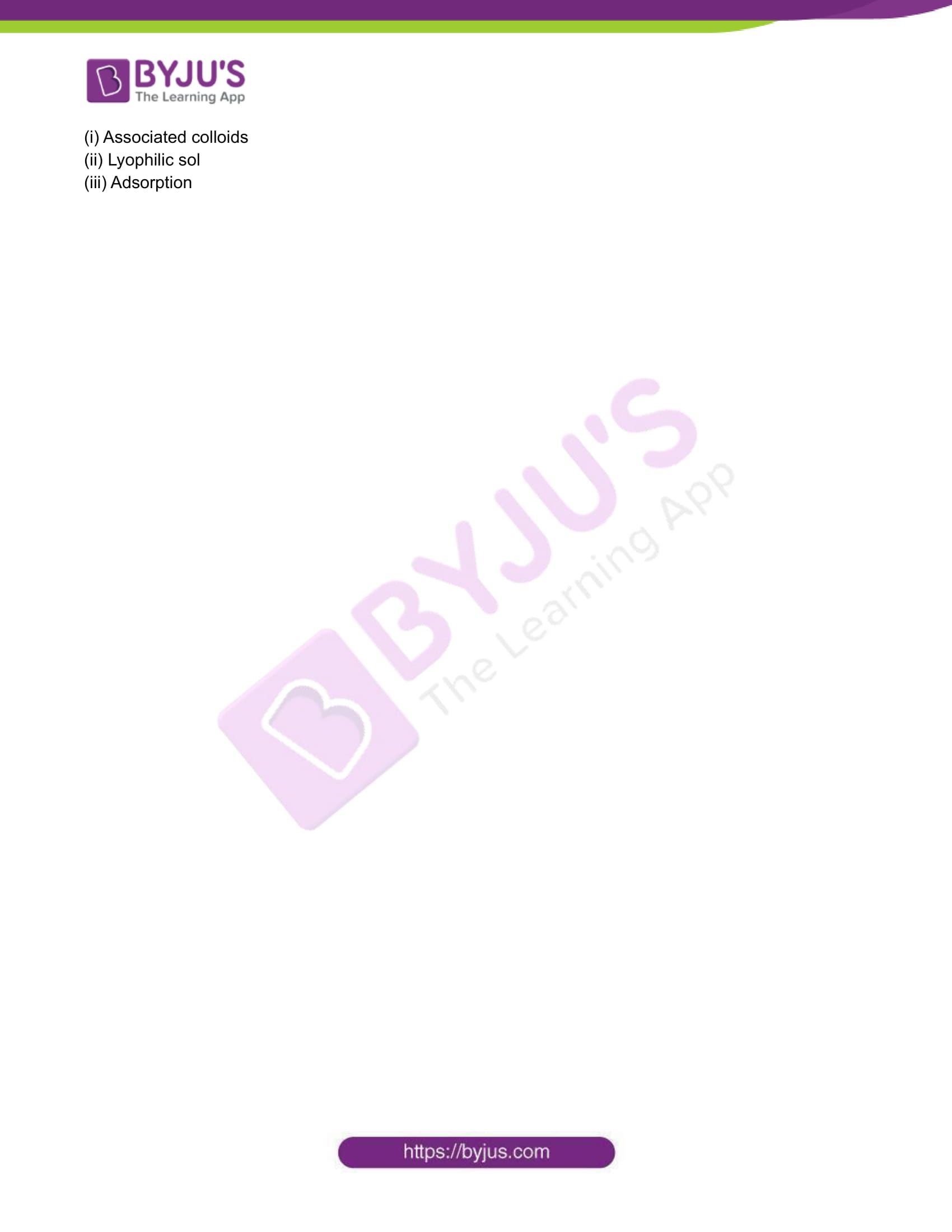 CBSE Class 12 Chemistry Chapter 5 Surface Chemistry Worksheet – Set 5
Q1. Which of the following metal sols cannot be prepared by Bredig's arc method?
a.) Silver
b.) Potassium
c.) Gold
d.) Platinum
Q2. Which of the following is an emulsion?
a.) Ruby
b.) Sponge
c.) Milk
d.) Jellies
Q3. A smoke precipitator works on the principle of:
a.) Distribution law
b.) Neutralization of charge on colloids
c.) Le Chaterlier's principle
d.) Addition of electrolytes
Q4. Which of the following ats a negative catalyst?
a.) Lead tetraethyl as an antiknock compound
b.) Glycerol in the decomposition of H2O2.
c.) Ethanol in the oxidation of chloroform
d.) None of the above
Q5. Soap solution is colloidal in nature and remove the dust particles by which of the following process?
a.) Emulsification
b.) Adsorption
c.) Stripping
d.) Distillation
Q6. Write one similarity between physisorption and chemisorption.
Q7. What is the difference between oil/water (O/W) type and water/oil (W/O) type emulsions? Give an example of each type.
Q8. Explain the following :
(a) Same substance can act both as colloids and crystalloids.
(b) Artificial rain is caused by spraying salt over clouds.
Q9. Write the dispersed phase and dispersion medium of the following colloidal systems:
(i) Smoke
(ii) Milk
Q10. Give reasons for the following observations :
(i) Leather gets hardened after tanning.
(ii) Lyophilic sol is more stable than lyophobic sol.
(iii) It is necessary to remove CO when ammonia is prepared by Haber's process.
Q11. What happens when an emulsion is centrifuged?
Q12. Define sorption.
Q13. Write the characteristics of Chemisorption.
Q14. Action of soap is due to emulsification and micelle formation. Comment.
Q15. How do emulsifying agents stabilise the emulsion?
Q16. What are the characteristics of the following colloids? Give one example of each.
(i) Multimolecular colloids
(ii) Lyophobic sols
(iii) Emulsions
Q17. Write a short note on Peptization.
Q18. Answer the following-
(a) How can we get the following colloidal solutions :
(i) Sulphur in water
(ii) Fe(OH)3 in water
(iii) Gold in water
(b) List two applications of adsorption.
Q19. What is a protective colloid?
Q20. Define the following terms giving an example of each :
(i) Associated colloids
(ii) Lyophilic sol
(iii) Adsorption
Download the PDF to access answers to the Chemistry Worksheet for Class 12 Chemistry Chapter 5 Surface Chemistry Set – 5.
Download PDF
Read Also: