Elements occur in nature either in the combined state or in a free state. Those occurring in free state or native are few. Metals occurring in free state are copper, silver, gold, platinum and other platinum group metals. Non-metals occurring in the free state are carbon, sulphur, nitrogen, oxygen and noble gases. The occurrence of an element in nature in the combined or in the free state depends on certain basic aspects which need to be explored. The abundance of elements in the universe is based on spectral analysis of distant stars. Findings have revealed that there is a remarkable uniformity in this respect.
Download Class 12 chemistry Chapter 6 General Principles and Processes of Isolation of Elements PDF.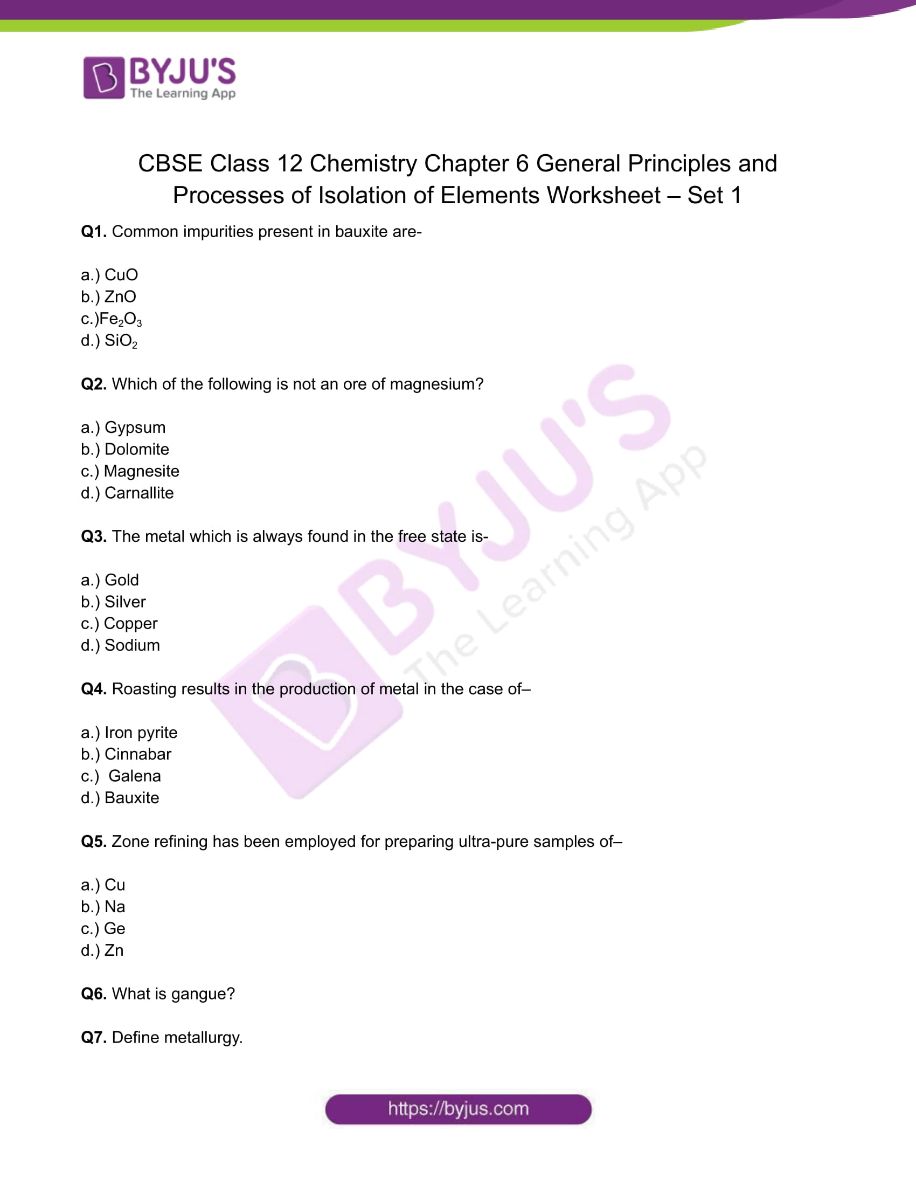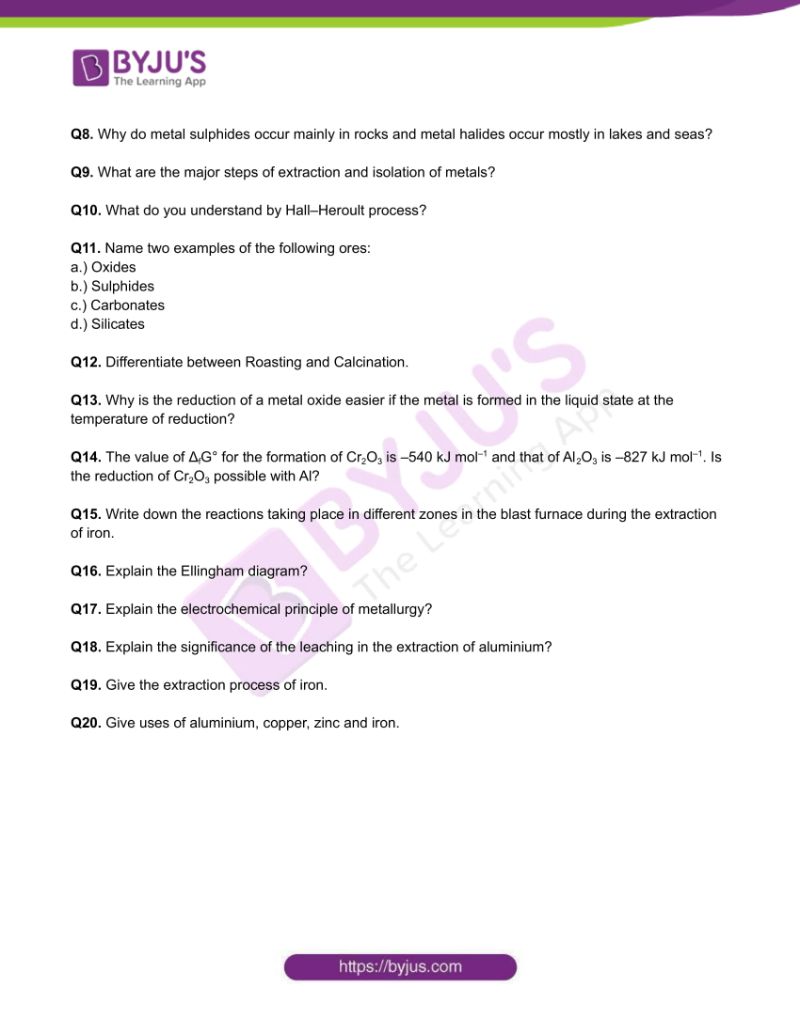 CBSE Class 12 Chemistry Chapter 6 General Principles and Processes of Isolation of Elements Worksheet – Set 1
Q1. Common impurities present in bauxite are-
a.) CuO
b.) ZnO
c.)Fe2O3
d.) SiO2
Q2. Which of the following is not an ore of magnesium?
a.) Gypsum
b.) Dolomite
c.) Magnesite
d.) Carnallite
Q3. The metal which is always found in the free state is-
a.) Gold
b.) Silver
c.) Copper
d.) Sodium
Q4. Roasting results in the production of metal in the case of–
a.) Iron pyrite
b.) Cinnabar
c.) Galena
d.) Bauxite
Q5. Zone refining has been employed for preparing ultra-pure samples of–
a.) Cu
b.) Na
c.) Ge
d.) Zn
Q6. What is gangue?
Q7. Define metallurgy.
Q8. Why do metal sulphides occur mainly in rocks and metal halides occur mostly in lakes and seas?
Q9. What are the major steps of extraction and isolation of metals?
Q10. What do you understand by Hall–Heroult process?
Q11. Name two examples of the following ores:
a.) Oxides
b.) Sulphides
c.) Carbonates
d.) Silicates
Q12. Differentiate between Roasting and Calcination.
Q13. Why is the reduction of a metal oxide easier if the metal is formed in the liquid state at the temperature of reduction?
Q14. The value of ΔfG° for the formation of Cr2O3 is –540 kJ mol–1 and that of Al2O3 is –827 kJ mol–1. Is the reduction of Cr2O3 possible with Al?
Q15. Write down the reactions taking place in different zones in the blast furnace during the extraction of iron.
Q16. Explain the Ellingham diagram?
Q17. Explain the electrochemical principle of metallurgy?
Q18. Explain the significance of the leaching in the extraction of aluminium?
Q19. Give the extraction process of iron.
Q20. Give uses of aluminium, copper, zinc and iron.
Download PDF to access answers of Chemistry Worksheet for Class 12 Chemistry Chapter 6 General Principles and Processes of Isolation of Elements set -1.
Download PDF
Read Also: