What is Coumarin?
The coumarin (benzopyran-2-one, or chromen-2-one) ring system present in natural products such as toka beans warfarin and cloverleaf, displays interesting pharmacological properties. The parent molecule was first isolated by Vogel from tonka beans.
The coumarin ring can be looked upon as arising out of a fusion of a pyrone ring with a benzene molecule. The derivatives of coumarin usually occur as secondary metabolites present in seeds, roots and leaves of many plants species. As for physical properties, coumarin is a white crystalline, volatile compound. It smells like vanilla and has a melting point of 341-344K.
Synthesis of Coumarin
The Pschorr coumarin synthesis involves the reaction of phenols with beta-keto esters in the presence of a condensing agent. The history of coumarin's synthesis began in the mid 19th century by W.H. Perkin in his famous first synthesis of a vegetable perfume.
Coumarin is prepared by treating the sodium salt of ortho-hydroxybenzqaldehyde with acetic anhydride. It involves other methods which have been developed by Pechmann Claisen, Knoevenagal, Reformatsky reaction and Wittig for the synthesis of pyrone-ring moieties in coumarins.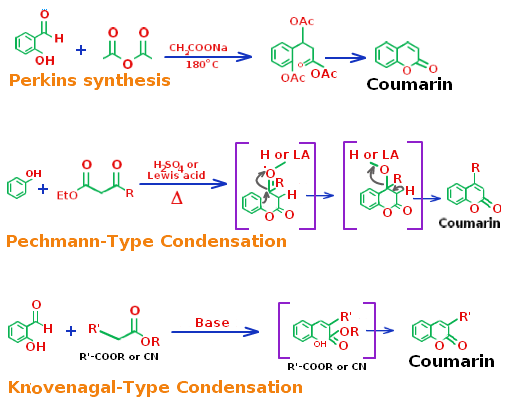 Coumarin Synthesis Mechanism
Besides their biological activities, coumarins have interesting optical properties.
Due to their inherent physicochemical and photophysical characteristics, such as resonance stability, usually good water solubility and relative ease of synthesis.
Coumarin derivatives have been extensively investigated for electronic and photonic applications such as charge-transfer complexes, laser dyes, fluorescent whiteners, solar energy collectors, non-linear optical materials and so on.
In fact, coumarins are well known as the largest class of laser dyes in the "blue-green" region, and the fluorescence of coumarin changes drastically with electronic characteristics and regiochemical positions of their substituents.