Europium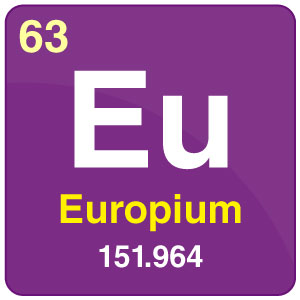 | | |
| --- | --- |
| Symbol | Eu |
| Atomic Number | 63 |
| Atomic Mass | 151.964 amu |
| Discovered by | Eugène-Anatole Demarçay in 1901 |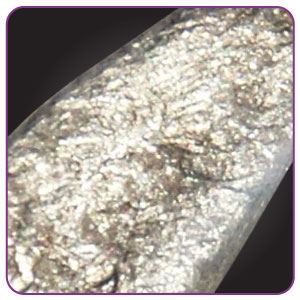 Chemical Properties of Europium
Group
Lanthanides
Melting point
822°C, 1512°F, 1095 K
Period
6
Boiling point
1529°C, 2784°F, 1802 K
Block
f
Density (g cm−3)
5.24
Atomic number
63
Relative atomic mass
151.964
State at 20°C
Solid
Key isotopes
153Eu
Electron configuration
[Xe] 4f76s2
CAS number
7440-53-1
ChemSpider ID
22417
ChemSpider is a free chemical structure database
What is Europium?
Europium is not found freely in nature. Most of the minerals comprise europium with the vital sources being monazite and bastnasite.
It is a soft white-silvery metal. The enrichment or depletion of europium in minerals related to other rare earth elements is termed as europium anomaly.
Uses of Europium
It is used as control rods in nuclear reactors due to its effectiveness in absorbing neutrons.
Europium oxide has its application as a phosphor activator.
Europium-doped plastics are used as laser materials and for making thin superconducting alloys.
It is used in the euro currency as an anti-forgery measure.
Properties of Europium
Europium is a member of the lanthanides group of elements. It is the most active element among the lanthanides.
It reacts very quickly with water and gives off hydrogen. It reacts strongly with oxygen in the air and spontaneously catches fire.
There are two stable isotopes of Europium that exist in nature, europium-151 and europium-153.