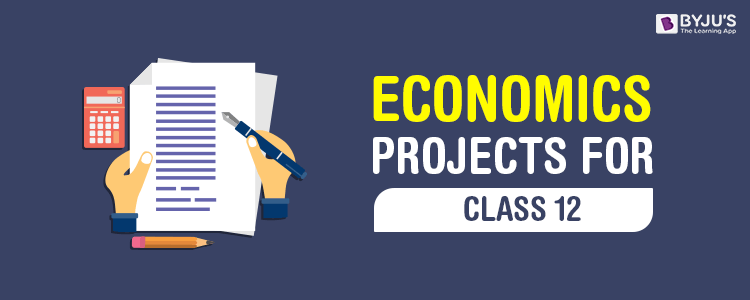 Class 12 Economics project plays an essential role in the students' life. However, a few students would be nervous about how and what to prepare a project. This uncertainty of how to accomplish the project work leads to a problem of imitating projects from peers.
It is a general issue where students weigh project work as a burden and do not pay attention to how to prepare it. If you are encountering an alike obstacle of beginning given project work. The best thing, to begin with, is a sample project work. Here, we have collected 3 sample Economics project for class 12, which can be downloaded as a PDF.
The Economics project for Class 12 will certainly assist all those students who really want to have a summary of what an Economics project for Class 12 looks like. It will completely answer all your questions on what are the different things we should contemplate while preparing an Economics project. The whole Economics project work is of 20 marks. To be well aware of the entire Economics syllabus for Class 12, click here for the Economics Syllabus Class 12.
Economics Project for Class 12 Download Free PDFs:
| | |
| --- | --- |
| Name of the Project | Download Links |
| Passing on Benefits of GST to Consumer | Download |
| Impact of GST on FDI | Download |
| Indirect Impact of GST on Income Tax | Download |
Economics Project Guidelines
While selecting your concept of the project, a few basic factors are to be kept in mind:
Be well aware of what you are doing
Your project must be different, at least 40%. Cut short the long story
Do not exaggerate. It is important to manifest everything associated with that topic. A topic on demand might lead you to behavioural economics, however, that is not important. Focus on the specific features and do not make it too long
Take proper guidelines from your professor
Here are some of the best Economics Project ideas for the Class 12 students:
Imperfect competition and Market failure.
Non-Performing Asset and Central Bank's procedures to recover it
Theories of the Long run supply curve (Not recommended if you aren't thoroughly versed in Macroeconomics basics)
RBI's policies to curb inflation and appreciate currency value.
Central Bank's functions with special reference to RBI
Causes and Potential Solutions for Adverse Balance of payments.
The shift of India's growth parameters from agricultural to manufacturing and service sectors over 50 years period.
Derivation of the Demand curve from Hicksian and Slutsky Income and Substitution effects.
Theories of utility (Ordinal and cardinal Approach)
Banking Sector Reforms
The growth of India's automobile sector in the last 20 years with special reference to FDI.
Import Substitution v/s export promotion.
Tax reforms and basic principles of taxation/Double taxation on Savings
Impact of macroeconomic variables on values of currencies.
Opportunity cost
Price determination
Production- Returns to a factor
Demand and it's determinants
Monopolistic competition
Monopoly
Stay tuned to BYJU'S for more project work for Class 12, Important Questions, question papers, sample papers, syllabus and Commerce notifications.