In a world as competitive as the present, it is difficult to get a head start in your career with just an undergraduate degree. In any field you choose to work in, to move up the corporate ladder an MBA degree is essential. Because in these days of globalization, candidates must be professional in attitude with sufficient knowledge in marketing to enhance business growth.
For a Master in Business Administration Degree, one has to qualify for the CAT exam to get into an Indian Institute of Management (IIM) which is regarded as India's top B-school. The CAT scores are also valued and accepted by a majority of top-tier business schools namely FMS (Faculty of Management Studies), SPJIMR (S.P Jain Institute of Management and Research), JBIMS (Jamnalal Bajaj Institute of Management Studies), etc. It gives the privilege to the qualified CAT candidate to choose from the plethora of options available.
Read the article below to know the opportunities for CAT Exam Jobs after completing the MBA from a recognized institute.
Opportunities of Jobs After CAT Exam
The candidates who will complete MBA after CAT will get various job opportunities from top MNCs in India and abroad. The candidates can start their careers as teachers or instructors or go for higher studies like a PhD or Post Doc. Below we have listed some CAT Exam Jobs list for your reference.
CEO of an Organization
Entrepreneur
Mid Senior Management Profile
Marketing Analyst
Business Analysis and more
How Can the IIM Brand Fast-Track Your Career?
The candidates must be aware of the opportunities that they will get if they have IIM Tag on their profile. Below we have listed some important aspects of CAT Exam Jobs along with the relevant graphical representation for your easy understanding.
1. CAT Exam Jobs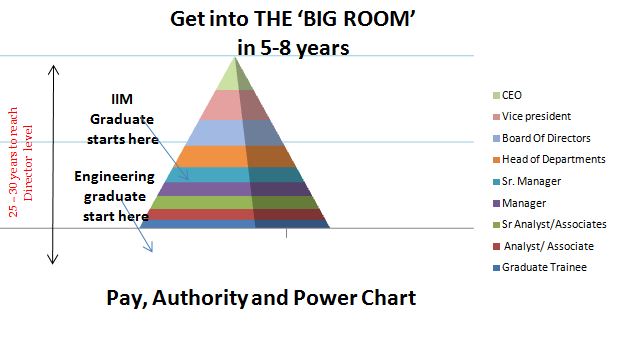 2. Salary Difference Between an IIM Graduate and Others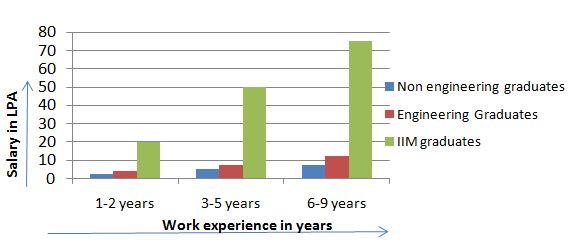 3. Develop Your Business and Entrepreneurship Skills
Giving the CAT exam will put you on the fast track to career advancement by offering you the chance to develop a wide range of general business knowledge and a broad base of technical skills in a relatively short period of time.
If you're interested in starting your own business, but not sure you have the necessary expertise to launch a start-up in a high-growth industry, an MBA can make you industry-ready. Research has shown that the failure rate for small businesses started by IIM graduates is about 50 per cent less than the standard failure rate.
☛ Quick Links:
4. Strengthen Your People Network and Job Security
Many options open up once you clear the CAT exam, which paves your way to the prestigious IIMs. These are known for their comprehensive yet focused curriculum delivered by expert management gurus and faculty. Their teaching styles encourage teamwork which will help develop important contacts and professional circles that can help you facilitate your business career.
IIM grads from reputed IIMs are desirable in national and global markets. Stay tuned with BYJU'S to get complete assistance for CAT preparation to be able to ace the CAT and get into any of the top B-schools in the country.