The Verbal Ability section comprises one-third of the total weightage of the CAT exam. A set of 26 questions is generally asked in this section. The general types of questions asked in Verbal Ability are based on vocabulary, grammar and reading comprehension. In order to ace the Verbal Ability section, at least 70 per cent of questions need to be attempted correctly. Students find this section very difficult because there is no book that gives a clear-cut approach.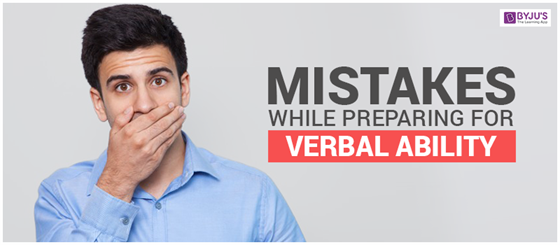 The questions on vocabulary could be based on synonyms and antonyms & general English. Error correction & sentence completion are the commonly asked grammar-based questions. The most important segment of this section is the reading-based questions which comprise at least 60 per cent of the total questions. Questions from para-jumbles are also common for the Verbal section in CAT.
Common mistakes by students in the Verbal Ability section that can be avoided while CAT 2023 preparation are mentioned below:
Improving your vocabulary to the point where understanding reading comprehension passages and vocabulary questions should be the main objective. In this digitalised world, the learning process has moved on from reading placards to much more user-friendly and adaptable vocabulary software. So, start focussing on the vocabulary by reading from various good sources, including English newspapers and other standard articles.
There is no syllabus for grammar, as it is very vast. In the grammar section, there are more exceptions than rules. So, it is very important to learn the basic concept of grammar and understand it from an exam point of view. Hence, this section should not be left unattended and practising various grammar-based questions is very crucial. Learn the basics properly and start practising from reliable sources.
Reading Comprehension can be tricky and complicated for those who are not accustomed to reading. In CAT exams, the passages are not interesting – they are long, dull and philosophical. The first thing to do here is to develop a good reading speed by adopting speed reading techniques. This can be supplemented by reading several good books. Besides, going through the editorial sections of the newspapers would also help.
Neglecting Reading Comprehension
As mentioned earlier, the reading comprehension passages are confusing, and the answer options are even more confusing. So, practising reading comprehension and taking different mock tests is very crucial. Also, the mathematical approach to reading comprehension can help to quickly read between the lines and answer the given questions.
Time Management strategies are the most important step when it comes to the CAT exam. Attempting the vocabulary question first is the key to getting good scores. When it comes to vocabulary-based questions, it's either you know, or you don't. Next would be reading-based questions, and finally, grammar and general English that one needs to attempt properly to score well. Also, time management during preparation is very crucial. So, make a proper strategy and a timetable to effectuate the preparation phase.
The candidates are also suggested to get familiar with the format of Verbal Ability questions to get an idea about the question types that might be asked in the exam. Stay tuned to BYJU'S to learn more effectively from various engaging video lessons and various CAT mock tests. Also, know the latest CAT 2023 registration process to register for the exam properly.